Good value, eh? Five dollars buys a reserved seat for an Angels baseball game, followed by a five-hour private party at Disneyland. You won't even need those pesky "A" through "E" tickets because all attractions are included. You'll even get to see some radio and TV personalities.
Oops! You missed it. The event was way back in April.
Of 1967.
According to the U.S. Consumer Price Index, $5.00 in 1967 is equivalent to $32.28 in 2008. Even at $32.28, it seems like a great value. It's impossible to say what a promotional ticket for an Angels baseball game followed by a five-hour private party at Disneyland costs today, because there's no such thing today.
The Federal minimum wage in April 1967 was $1.40. Without taking taxes into account, a minimum-wage employee would have to work 3.57 hours in 1967 to buy this Angels-Disneyland combination ticket. Today (2008), the Federal minimum wage is $5.85, and Disneyland charges $66.00 for a single-day, one-park ticket for ages 10 and up. That works out 11.28 hours at minimum wage. Sure, that's comparing apples and oranges, but it says something about the consequences of Disneyland price increases exceeding the rate of inflation, while the minimum wage has not kept up with inflation.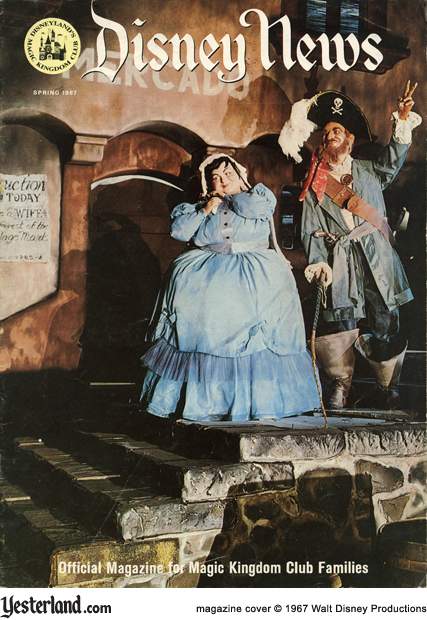 The "Angels-Disneyland Double Header" advertisement was right inside the front cover of the Spring 1967 issue of Disney News, a quarterly magazine published by Disneyland. A subscription to Disney News at that time was $1.00 for two years (8 issues). The magazine was for members of the Magic Kingdom Club, a discount card program originally launched in 1958 to market Disneyland through Southern California companies, labor unions, schools, and associations.
Back in 1967, when the advertisement ran, the Angels baseball team was owned by one-time singing cowboy star Gene Autry (1907-1998), who launched the American League expansion team in 1961. You may have noticed the stations whose DJs and personalities would be at the "Angels-Disneyland Double Header." Autry also owned Golden West Broadcasting, which included radio station KMPC and television station KTLA in Los Angeles. (Synergy isn't something new.)
The Angels baseball team had a variety of names, stadiums, and owners over the years:
In 1961, the team's first year, the Los Angeles Angels played at Wrigley Field in South Los Angeles (not to be confused with Chicago's more famous Wrigley Field).
In 1962, the Los Angeles Angels moved to Chavez Ravine, the same stadium that the Los Angeles Dodgers called Dodger Stadium.
In 1966, the team moved to the new Anaheim Stadium ("The Big A") and became the California Angels.
In 1995, The Walt Disney Company bought a 25% stake in the team from 86-year-old Gene Autry.
In 1996, Disney acquired controlling interest in the team.
In 1997, Anaheim Stadium was renovated and renamed Edison International Field of Anaheim (or simply Edison Field), and the team's name changed to the Anaheim Angels as part of the stadium deal.
After the 1998 death of Gene Autry, Disney took full ownership of the team.
The Anaheim Angels won the 2002 World Series, but Disney CEO Michael Eisner was under pressure to trim underperforming assets of The Walt Disney Company and reverse its declining stock price.
In 2003, a group headed by billboard magnate Arturo "Arte" Moreno bought the team from Disney.
In 2005, the team took on the unwieldy name of the Los Angeles Angels of Anaheim—the team's fourth name over the years—in order to be more closely identified with Los Angeles and its huge media market, while still fulfilling a contractual obligation with the City of Anaheim related to the stadium deal.
The "Angels-Disneyland Double Header" was an unusual event, but private parties at Disneyland were common during the 1960s and 1970s on weekends in the fall, winter, and spring. For several years, Disney News even published a quarterly calender that showed the private parties. Disneyland would close at 6:00 or 7:00 p.m., and reopen at 7:30, 8:00, or 8:30 p.m. for guests who had purchased dated tickets through their employer, labor union, church, or other organization. Even though Sundays were school nights, Disneyland figured out how to offer a third private party some weekends by starting the party in the afternoon while other guests were still in the park.
Now, to get back to the advertisement at the top of the article... Head over to any Wallichs Music City store with a some five-dollar bills to buy your "Angels-Disneyland Double Header" tickets. While you're there, check out the genuine Magnavox console color televisions and console stereos, the large collection of vinyl record albums, and the listening booths where you can preview the records. You'll need a time machine. Wallichs Music City went under in 1978.
---
Click here to discuss this page on the Yesterland Discussion Forum at MiceChat!
---
GE Publicity Photos
Disneyland '66 Brochure
Home
---
© 2008-2009 Werner Weiss — Disclaimers, Copyright, and Trademarks
Updated July 9, 2009.
Scanned image of Angels-Disneyland advertisement © 1967 Walt Disney Productions.
Scanned image of Disney News magazine cover © 1967 Walt Disney Productions.
Scanned image of calendar in Disney News magazine © 1967 Walt Disney Productions.