The Mad Tea Party is still in Disneyland, but the original Mad Tea Party is in Yesterland. So climb into one of the original Tea Cups for a ride inspired by the Mad Hatter and the March Hare's Unbirthday Party scene in Walt Disney's 1951 animated feature, Alice in Wonderland.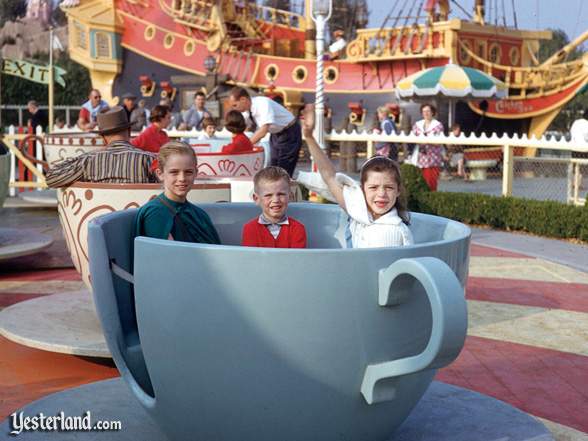 Is the girl on the right raising her hand to be excused?
You might not want to go on this ride right after you've eaten at the Pirate Ship Restaurant. This also might not be a good ride for you if you suffer from motion sickness. But if those conditions don't apply, have fun spinning around, just like the well-dressed children in these pictures.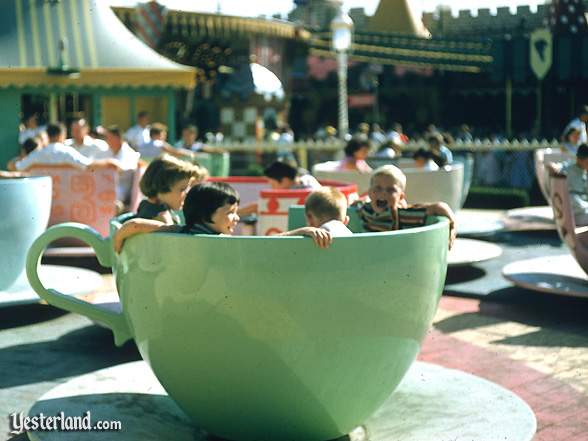 Is the boy on the right laughing or screaming?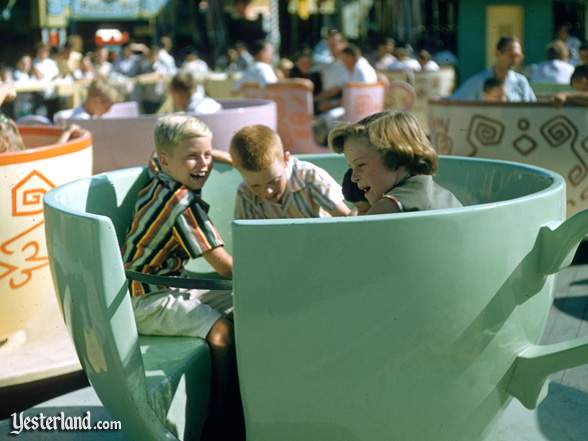 He looks happy here.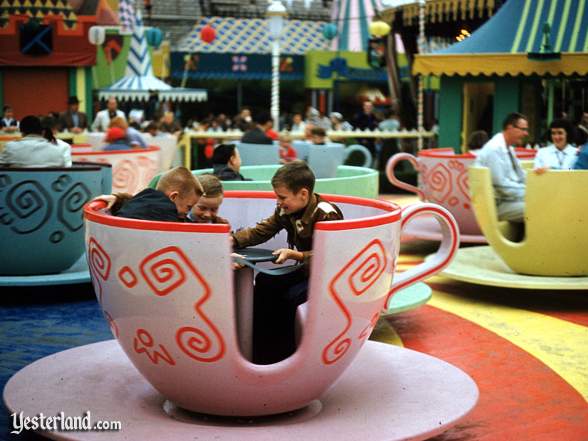 The harder you turn the wheel in center, the faster you spin.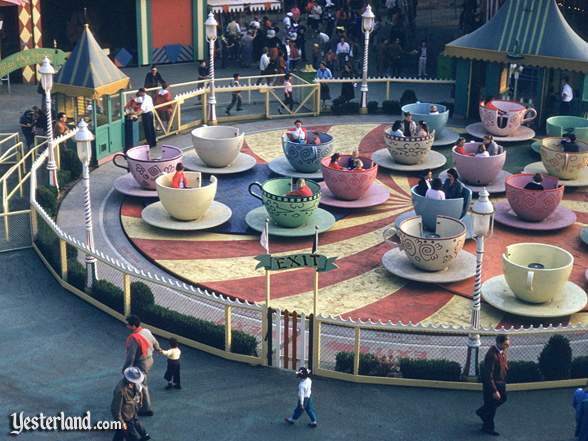 The red and yellow platter could use some cleaning.
Be careful when you get out of your tea cup. You might be rather dizzy.
---
The Mad Tea Party was one of Disneyland's opening day attractions in 1955.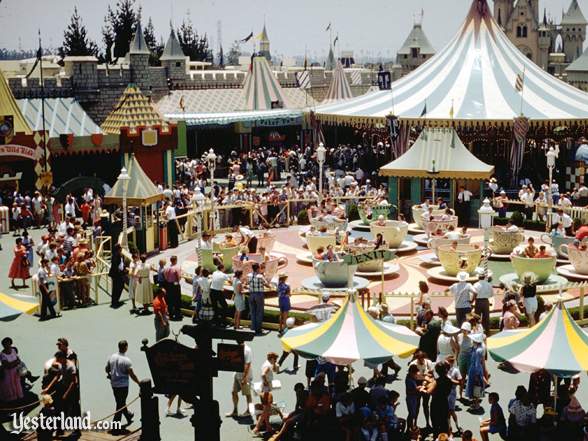 Mad Tea Party at its original location in Disneyland (1959 photo)
The Mad Tea Party was located where the King Arthur Carrousel sits today. The King Arthur Carrousel was originally squeezed into the tight space between the Mad Tea Party and Sleeping Beauty Castle.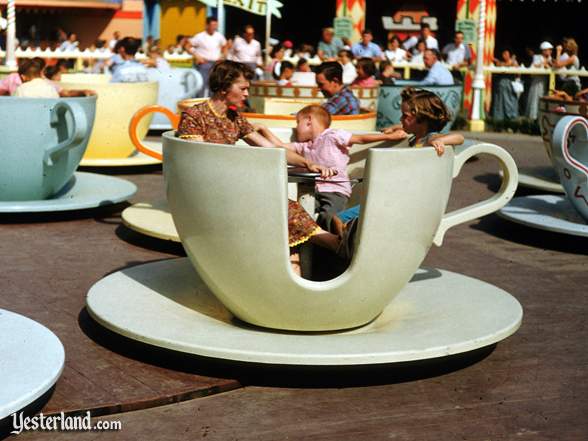 Mad Tea Party, circa 1955
Mad Tea Party is essentially a dressed-up carnival ride, but fits well in Fantasyland. It's a fun ride which allows guests to control how fast they spin and in what direction. It also serves an eye-pleasing kinetic sculpture for guests walking in Fantasyland.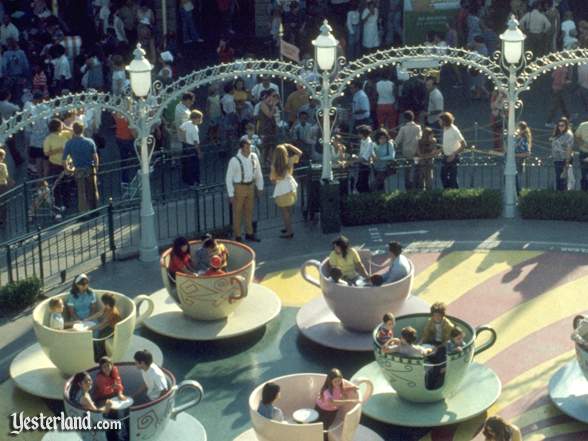 Mad Tea Party in 1972
The ride was embellished over time. For example, notice the ornamental arches connecting that light posts in the 1972 photo.
The big change came in May 1983. As part of the New Fantasyland, a new Mad Tea Party welcomed guests near the Alice in Wonderland ride—an apt location since both are based on the same movie.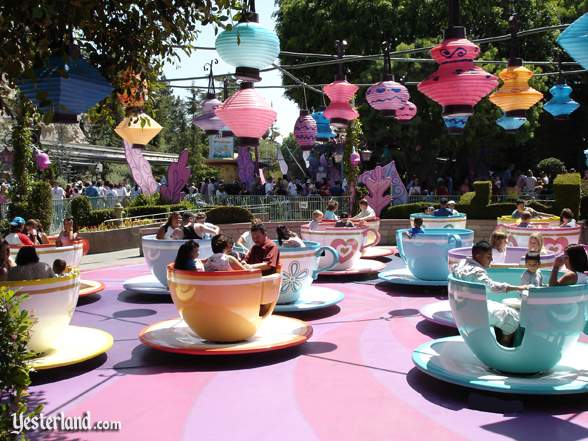 Mad Tea Party in 2004
Mad Tea Party now looks better than ever. Attractive planters surround the ride, while colorful lanterns hang above it. The tea cups have fancier designs. And they now have doors rather than little ropes to keep guests from falling out.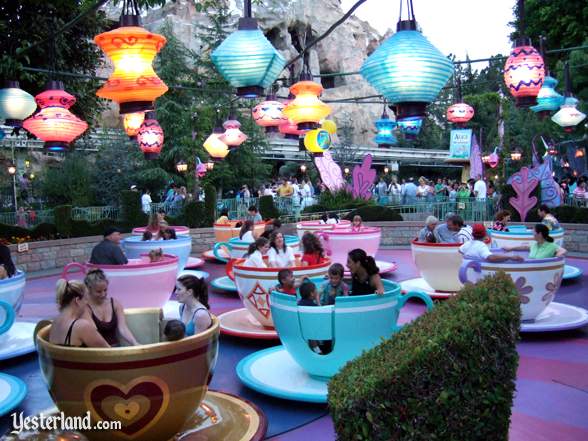 Mad Tea Party at dusk in 2005
The spinning tea cup ride is one of the few rides that's at all five worldwide Magic Kingdom-style theme parks. But it goes by several names:
At Disneyland and Magic Kingdom Park, the ride is called Mad Tea Party.
At Tokyo Disneyland, it's called Alice's Tea Party.
At Disneyland Paris, it's called Mad Hatter's Tea Cups (possessive).
At Hong Kong Disneyland, it's called Mad Hatter Tea Cups (not possessive)
At Disneyland, the great climate of Anaheim allows the ride to be in the open air. At the other parks, the ride is roofed over to provide protection from rain (and, in some parks, snow).
---
Click here to discuss this page on the Yesterland Discussion Forum at MiceChat!
---
Original Dumbo
Fantasyland Theater
Home
---
© 2008-2009 Werner Weiss — Disclaimers, Copyright, and Trademarks
Updated January 16, 2009.
Photo of Mad Tea Party with enthusiastic boy: by Charles R. Lympany, circa 1956, courtesy of Chris Taylor.
Photo of Mad Tea Party with children in green cup: by Charles R. Lympany, circa 1956, courtesy of Chris Taylor.
Photo of Mad Tea Party with Pirate Ship: by Charles R. Lympany, circa 1956, courtesy of Chris Taylor.
Photo of Mad Tea Party with children spinning a green cup: by Charles R. Lympany, circa 1956, courtesy of Chris Taylor.
Photo of Mad Tea Party with children spinning a pink cup: by Charles R. Lympany, circa 1956, courtesy of Chris Taylor.
Photo of Mad Tea Party from Skyway: by Charles R. Lympany, circa 1956, courtesy of Chris Taylor.
Photo of Mad Tea Party and surroundings: Fred Nelson, 1959
Photo of Mad Tea Party, circa 1955: by Charles R. Lympany, circa 1955, courtesy of Chris Taylor.
Photo of Mad Tea Party in 1972: Dennis Caswell, 1972
Photo of Mad Tea Party with lanterns: Allen Huffman, 2004
Photo of Mad Tea Party at dusk: Allen Huffman, 2005