Leave your ticket book in your pocket. You don't need a ticket to enter here—not even an "A" ticket. The Monsanto Chemical Company is your host for this exhibit about the "romance of chemistry."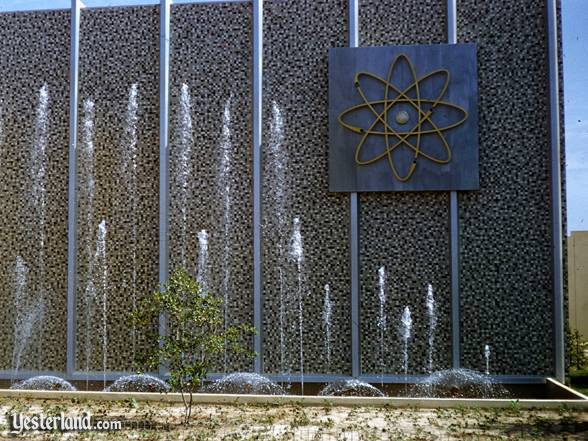 A friendly atom adorns the exterior.
Romance?
Yes! A full page in an advertising supplement in the Los Angeles Times, July 15, 1955, described it this way:
MONSANTO … in Tomorrowland … shows you the romance of chemistry, how chemically-made products benefit your life, how they can make a new and startling world tomorrow. Your food, clothing, housing, health, and transportation all depend on chemistry … and the future holds some exciting, wonderful things in store for you.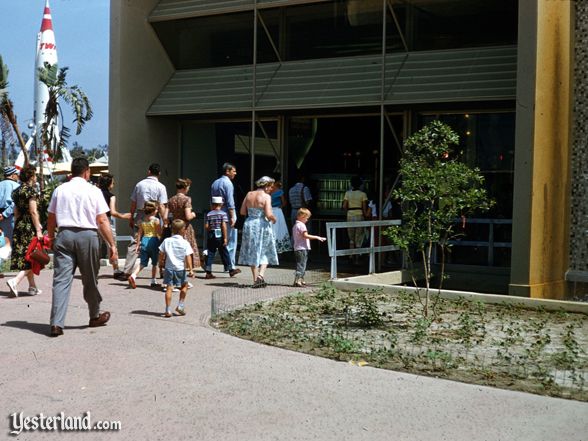 No ticket booth. No ticket taker. Just walk right in.
The central display of the Hall of Chemistry is the Chematron. What's a Chematron? Here's how the ad explains it:
Upon entering Monsanto's Hall of Chemistry, you will see the CHEMATRON … huge shining tubes of the eight basic materials found in nature, from which countless chemicals and plastics can be made. One of these is salt, another coal; another water: but from those eight common substances come almost 500 different Monsanto chemicals and plastics. And you'll see how these promise to build a new and easier way of life your you, your children, and generations to come.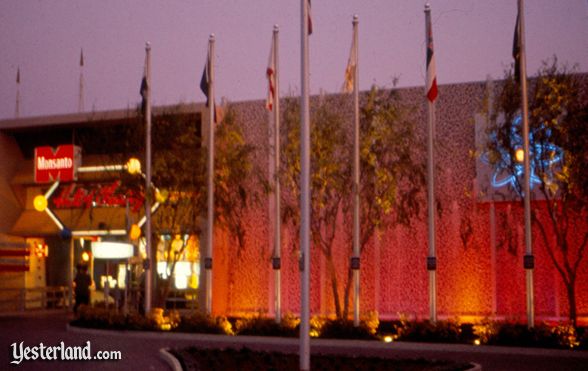 It's prettier at night.
One of the giant test tubes of the Chematron features coal. You'll never again think of coal as just a boring sedimentary rock that's combustible after you see the display. According to the ad:
COAL! Did you know that from coal it is possible to make over a quarter of a million substances? From plastics to perfumes, from drugs to disinfectants—hundreds of things you use today … and will tomorrow … are derived—chemically—from coal.
And thousands more will be found tomorrow. See what CHEMISTRY in Tomorrowland has in store for you.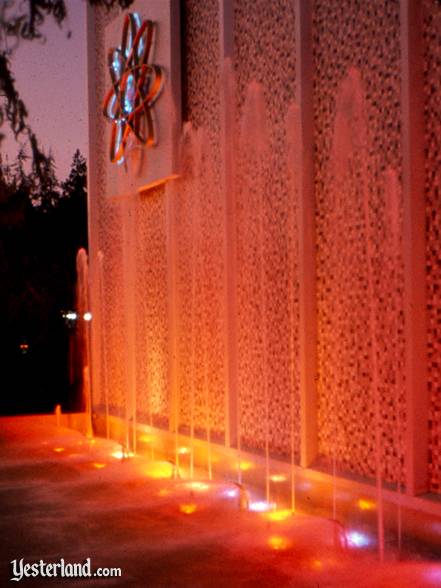 It's a World of Color!
---
The Monsanto Hall of Chemistry opened in Tomorrowland at Disneyland in July 1955.
On the other side of park in Frontierland, guests found grand experiences that took them back in time, such as the Mark Twain riverboat. But, in Tomorrowland, guests found primarily lackluster corporate exhibits. In his 1987 book Disneyland: Inside Story, Imagineer Randy Bright explained why:
With time and money running short before the opening of Tomorrowland, Walt had been forced to accept several corporate county-fair-type exhibits to populate the buildings. The Monsanto "Hall of Chemistry," the Dutch Boy Paints "Color Gallery," and Kaiser's "Hall of Aluminum Fame" did little more than promote the companies themselves, and even less to promote the future.
The Monsanto Hall of Chemistry turned out to be the first of four Monsanto attractions at Disneyland. The Monsanto House of the Future walk-through opened in June 1957.
Then, in March 1965, Monsanto's Fashions and Fabrics Through the Ages exhibit—which provided "the history of fashions and fabrics from pre-historic times through the miracle fibers of today"—joined the Hall of Chemistry, using the space that had been Kaiser's Hall of Aluminum Fame. The exhibit included historic gowns that had belonged to famous women, such as Mary Todd Lincoln. But Monsanto's real goal was to show "how the natural fibers of the past can be duplicated with today's manmade fibers … fibers that offer vast superiority In durability and cleanability undreamed of just a few years ago." In a brochure for Fashions and Fabrics Through the Ages, Monsanto promoted their vision:
In startling contrast to the elaborate fashions of history are a group of five contemporary gowns by Anthony Muto. These gowns were created entirely of Acrilan and nylon fibers made by Monsanto's Chemstrand Company Division. The exhibit theme is expressed in Muto's hooded halter jump suit of white stretch nylon designed for a trip to the moon … symbolizing the spectacular future which lies ahead for fashions of manmade fibers.
Amazingly, the Hall of Chemistry lasted for more than 11 years. That was quite a long run for a "corporate county-fair-type exhibit."
Monsanto's Hall of Chemistry and its Fashions exhibit closed in September 1966 to make way for the fourth Monsanto attraction, Adventure Thru Inner Space, which opened in August 1967.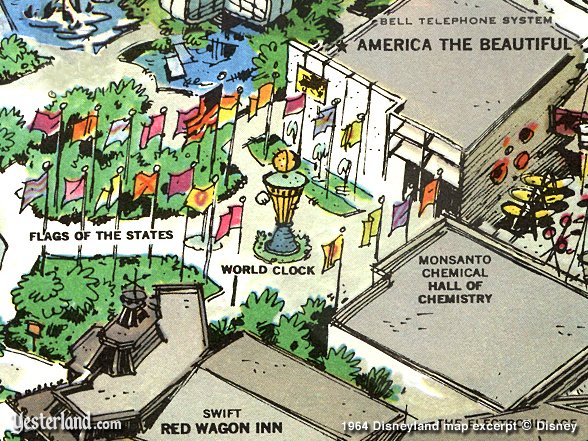 The Monsanto Hall of Chemistry was on the right side as you entered Tomorrowland.
The prime location at the entrance to Tomorrowland has been Star Tours since January 1987.
As Randy Bright noted, the Hall of Chemistry, despite being in Tomorrowland, wasn't really about the future. If Monsanto had been able to predict the future, perhaps the exhibit would have included artificial bovine growth hormone, genetically modified seeds, patented lifeforms, and lawsuits against farmers who save seeds—in other words, controversial products and practices of today's Monsanto Company, successor to the Monsanto Chemical Company.
---
Please visit two other Monsanto attractions at Yesterland:
---
Click here to discuss this page on the Yesterland Discussion Forum at MiceChat!
---
---
© 2010 Werner Weiss — Disclaimers, Copyright, and Trademarks
Updated June 17, 2010.
Photo of Monsanto Hall of Chemistry exterior, day: 1960 by Roger J. Runck, courtesy of Robin Runck.
Photo of Monsanto Hall of Chemistry fountains, day: by Charles R. Lympany, courtesy of Chris Taylor.
Photo of Monsanto Hall of Chemistry entrance, day: by Charles R. Lympany, courtesy of Chris Taylor.
Photo of Monsanto Hall of Chemistry exterior, night: 1961 by Roger J. Runck, courtesy of Robin Runck.
Photo of Monsanto Hall of Chemistry fountains, night: 1961 by Roger J. Runck, courtesy of Robin Runck.

Scanned image of a small section of the 1964 Disneyland souvenir map: Copyright 1964 Walt Disney Productions (The Walt Disney Company); included here for historical illustration.