Sure, you'll still find a Dumbo the Flying Elephant ride at Disneyland—but the original Dumbo Flying Elephants ride is in Yesterland.
This ride is inspired by the Walt Disney's 1941 animated feature, Dumbo. It's located in a dead-end corner of Yester-Fantasyland, right in front of the Fantasyland Theater, near the Pirate Ship Restaurant.
Climb into one of the ten Dumbos. Each elephant holds two guests. Soon you'll be flying around in circles.

Here's a close-up from the first photo.
Notice the hinged ears (above). The ears are supposed to move up and down. I'm sorry. They're not working today. To be honest, the mechanisms never worked properly, so the ears on each Dumbo are stationary. But that's okay, because these elephants fly anyway.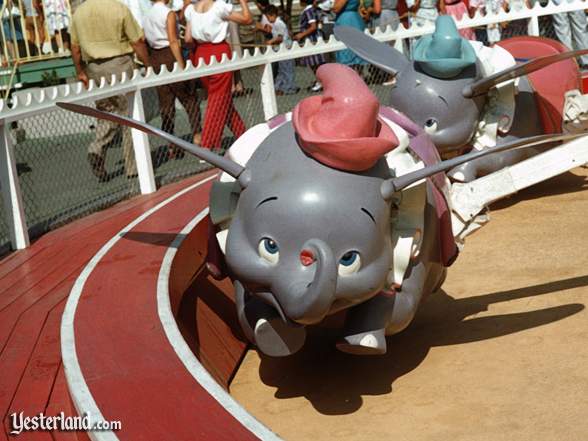 The wooden loading platform and the ground have a new paint scheme.
As you visit the park in different years, you'll see different color schemes on the loading platform. The elephants themselves are always gray, just like in the movie. What other color could they be? Pink?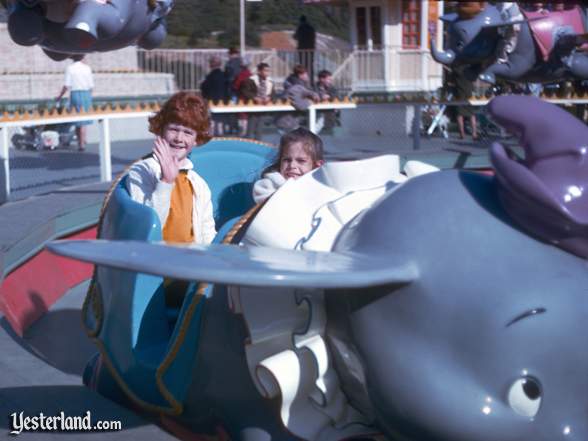 Stationary ears
Eventually, you'll notice that the ears are integral parts of the elephant, not inoperative hinged appendages.
---
Dumbo Flying Elephants—also known as Dumbo the Flying Elephant or simply Dumbo—was supposed to be one of the attractions ready for Disneyland's invitation-only opening on July 17, 1955 (and the public opening the next day).
The first batch of fiberglass elephants arrived about three weeks before the opening days. They weighed 700 pounds apiece—which is light for an elephant, but heavy for a flying elephant. The ride was a mechanical failure. The attraction was quickly reworked and managed to open August 16, 1955.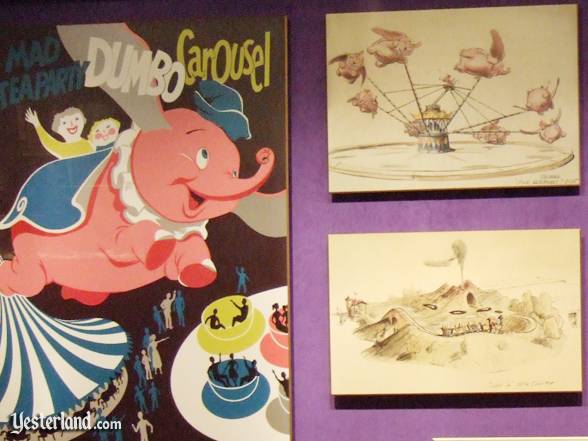 Artwork in The First 50 Magical Years exhibit shows pink elephants.
Early artwork showed pink elephants, not the familiar gray pachyderms. The finest Disneyland history book, Disneyland: The Nickel Tour, by Bruce Gordon and David Mumford (Camphor Tree Publishers, 1995), provides an explanation. Just as there is only one Mickey Mouse, there can be only one Dumbo, right? Because this ride would have ten flying elephants, they would be the "Pink Elephants on Parade" from Dumbo's intoxicated nightmare in the movie. The book goes on to speculate, "Somewhere along the way, no doubt, Walt decided he'd rather have everyone riding the real Dumbo, not an alcohol-induced hallucination. So the pink elephants became gray and the one and only Dumbo became ten."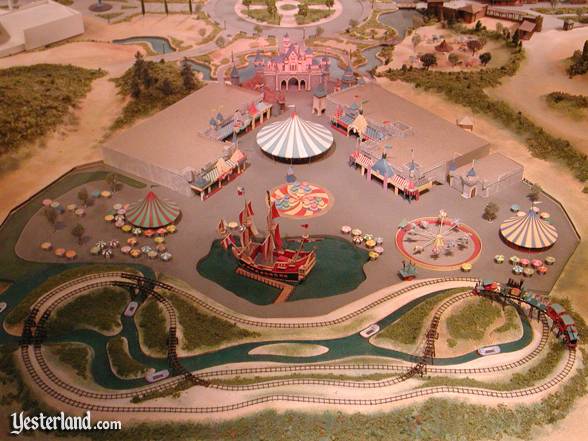 The 1955 model in The First 50 Magical Years exhibit shows the original Fantasyland.
When the Dumbo ride first opened, it was located on the west side of Fantasyland.
The official Disneyland website includes this bit of historic trivia about Dumbo the Flying Elephant:
"When former President Harry Truman visited Disneyland® Park in 1957, Dumbo was one of the few attractions he didn't ride. Truman didn't want to be associated with a character related to the Republican party."

Dumbo at its original location in Disneyland (circa 1959)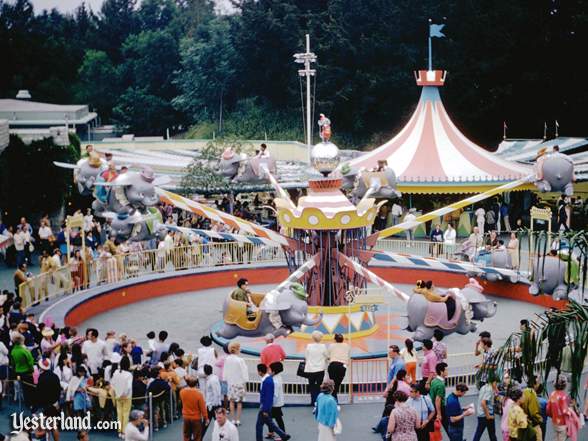 A very similar view of Dumbo in Disneyland (1959 photo)
The two similar photos above were taken by two different photographers from the Skyway ride. Do you see any differences? The big difference is the railing around the ride.
For the May 1983 opening of the New Fantasyland, the Dumbo ride moved to where Skull Rock Lagoon had been. The cosmetically updated version of the original ride still had just 10 elephants, but the mechanism looked more like it does today.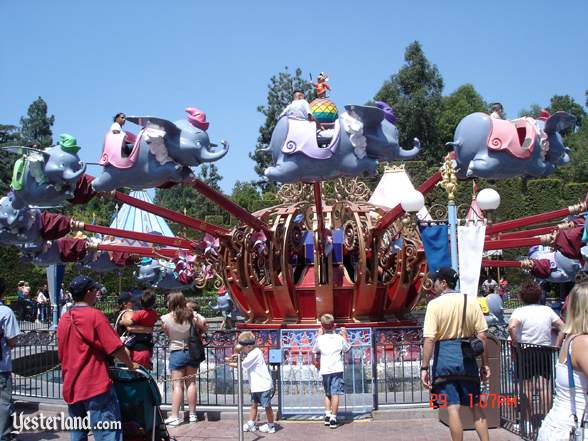 Dumbo at Disneyland in 2004
The biggest change to Dumbo came in 1990, after two accidents.
On March 29, 1989, one of the fiberglass elephants partially separated from a support arm, injuring a Garden Grove couple and their 3-year-old daughter. The family suffered "bruises and scrapes." Dumbo reopened the next day.
A year later, on April 1, 1990, one of the support arms collapsed, injuring a 13-year-old girl from Canada. The teenager suffered "minor bruises." After being checked at Garden Grove Hospital, she returned to the park for the rest of the day. This time, the old Dumbo was grounded permanently.
In both cases, the injuries were minor. But the accidents should not have happened at all. Disneyland needed a safe, reliable Dumbo attraction.
Disney had a magnificent 16-elephant version of Dumbo ready for Euro Disneyland (now called Disneyland Paris), but that park would not open until 1992. The new Dumbo ride went to Anaheim, where it opened in November 1990. Disneyland now had a Dumbo ride with 60% more capacity. There was still plenty of time to build a duplicate for Paris.

Dumbo at Disneyland in 2005
The elephants at Disneyland fly above a doughnut-shaped pool of water with splashing fountains.
Dumbo is one of only a few rides that can be found at all of Disney's Magic Kingdom-style parks around the world. Even though Dumbo is essentially just a simple amusement park ride, there's something very appealing about the friendly elephants—especially for young children.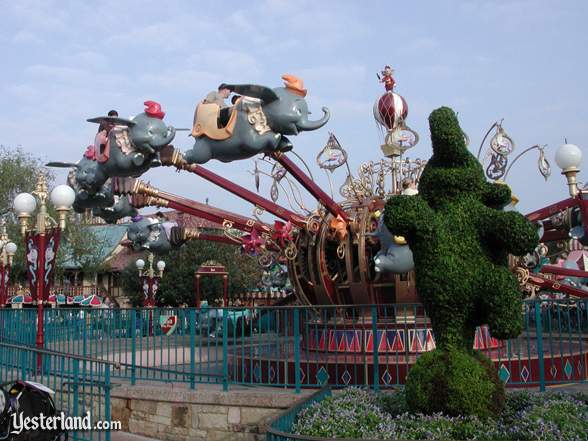 Dumbo at Walt Disney World in 2004
Magic Kingdom Park at Walt Disney World opened with a 10-elephant Dumbo in 1971 and has had the updated 16-elephant version since 1993. There are no fountains.
Disneyland Paris (1992) and Hong Kong Disneyland (2005) have had 16-elephant Dumbo rides since opening. These rides have fountains.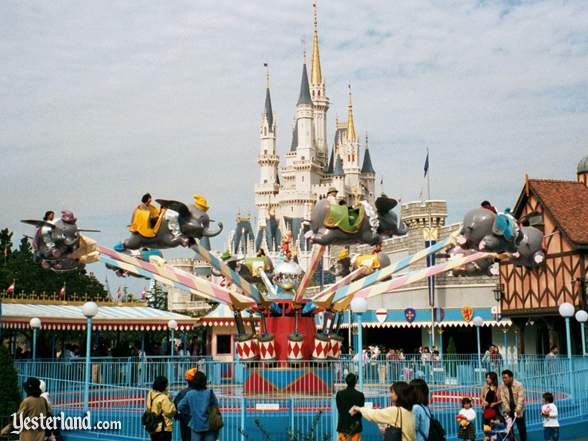 Dumbo at Tokyo Disneyland in 2000
If you're nostalgic for the old Dumbo, take a trip to Tokyo Disneyland. There, the Dumbo ride is from 1983, and has just ten elephants.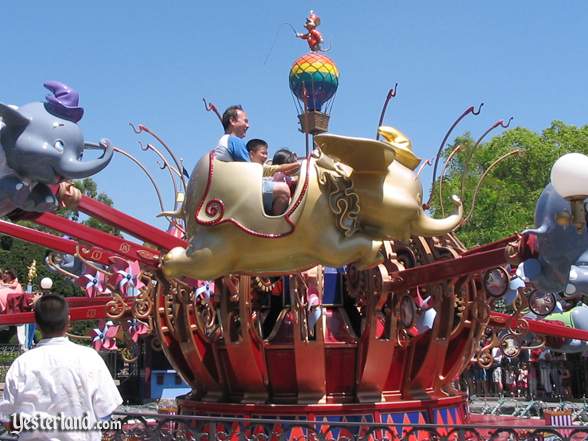 Golden Dumbo at Disneyland in 2006
As one of the original attractions from 1955 at Disneyland, one of elephants was painted gold in honor of the park's 50th anniversary in 2005.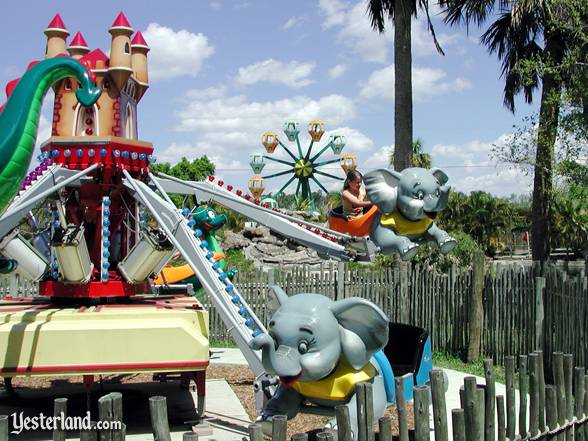 Bulwagi's Flying Adventure at Lion Country Safari, Loxahatchee, Florida
They say that imitation is the sincerest form of flattery. Dumbo should feel very flattered by rides such as Bulwagi's Flying Adventure at Lion Country Safari in Loxahatchee, Florida; Amazing Flying Elephants at Dollywood in Pigeon Forge, Tennessee; and Elephant March at Silver Dollar City in Branson, Missouri.
---
Click here to discuss this page on the Yesterland Discussion Forum at MiceChat!
---
Original Mr. Toad's Ride
Original Mad Tea Party
Home
---
© 2009-2011 Werner Weiss — Disclaimers, Copyright, and Trademarks
Updated March 23, 2011.
Photo of Dumbo (wide): by Charles R. Lympany, courtesy of Chris Taylor.
Photo of Dumbo (zoomed in to show hinged ears): by Charles R. Lympany, courtesy of Chris Taylor.
Photo of Dumbo in barn-red wooden ring: by Charles R. Lympany, courtesy of Chris Taylor.
Photo of Dumbo with child waving: by Frank Taylor, courtesy of Chris Taylor.
Photo of Dumbo artwork in Opera House: 2005 by Allen Huffman.
Photo of model of Disneyland in 1955 in Opera House: 2006 by Werner Weiss.
Photo of Dumbo with from Skyway (1): by Frank Taylor, courtesy of Chris Taylor.
Photo of Dumbo with from Skyway (2): by Fred Nelson.
Photo of Dumbo at Disneyland: 2004 by Allen Huffman.
Photo of Dumbo at Disneyland, showing fountains: 2005 by Allen Huffman.
Photo of Dumbo at Walt Disney World: 2004, by Werner Weiss.
Photo of Dumbo at Tokyo Disneyland: 2000, by Werner Weiss.
Photo of Golden Dumbo at Disneyland: 2006 by Karen Weiss.
Photo of Bulwagi's Flying Adventure at Lion County Safari: 2006, by Werner Weiss.