Book Review

Early Amusement Parks of Orange County

Author:
Richard Harris

Arcadia
Publishing
2008

Published
July 21, 2008


Reviewed by
Werner Weiss
July 24, 2008
Did you know there was once a seaside amusement park called the Joy Zone at Orange County's Seal Beach, complete with a big wooden roller coaster called the Derby?
I had fun today reading Early Amusement Parks of Orange County by Richard Harris. We can quibble about the book's name. In this case, Early seems to mean anything before 1980 or so. And the term Amusement Park is applied rather broadly, even to places like Movieland Wax Museum. But Orange County Visitor Attractions from the First Seven Decades of the Twentieth Century just doesn't sound good.
Orange County, in this case, is Orange County, California. (There are also Orange Counties in Florida, Indiana, New York, North Carolina, Texas, Vermont, and Virginia.)
The book is a 128-page, 6½" x 9¼" quality paperback. Most pages have two well-printed, black-and-white photographs, with a one-paragraph caption for each photo. The captions are informative and often contain interesting trivia. It's a picture book, a part of Arcadia Publishing's Images of America series.
Perhaps you've seen other titles from Arcadia Publishing. They have more than 5,000 titles in print, usually dealing with the local history of towns, city neighborhoods, suburbs, college campuses, and other subjects that might only interest book buyers in a small geographic area. But this time, Arcadia has a book that could interest amusement park and attraction fans worldwide.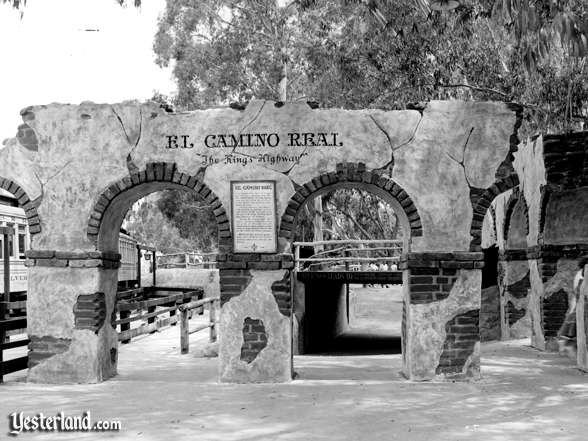 El Camino Real, gateway to the California missions, at Knott's
Richard Harris divided the content into six chapters.
1. Coastal Amusement Parks

The Joy Zone in Seal Beach is long gone. The Fun Zone at Balboa is still around, but there have been many changes over the years. This chapter gets the book off to a great start.


2. Knott's Berry Farm

When they rented 20 acres of Buena Park farmland in 1920, Walter and Cordelia Knott had no intention of eventually building what is often billed as America's first theme park. For this chapter, Harris selected terrific historic photographs, primarily from the Orange County Archives. This is my favorite chapter in the book, and it left me wanting more.


3. Walt Disney and Disneyland

Of course, no book about Orange County amusement parks would be complete without Disneyland. This 28-page chapter is the longest in the book. Harris collected a good assortment of early photos and added enough fun facts. Despite the many other books about Disneyland, even longtime Disneyland fans who've "seen it all" should enjoy it. I did.


4. Hollywood and Entertainment Attractions

When I saw this chapter name, my first reaction was that Hollywood is not in Orange County. But the movie-themed attractions in this chapter were in Orange County: Movieland of the Air at Orange County Airport, Movie World/Cars of the Stars and Planes of Fame Museum in Buena Park, and Movieland Wax Museum in Buena Park. Devoting 13 pages—essentially 10% of the book—to Movie World/Cars of the Stars and Planes of Fame Museum is too much (although those who enjoy looking at odd cars might disagree with me).


5. Wildlife Attractions

This chapter is about the California Alligator Farm in Buena Park, Japanese Village and Deer Park (which became Enchanted Village) in Buena Park, and Lion Country Safari in Irvine. They're all gone now, so the photos provide a glimpse into the past.


6. Old MacDonald's Farm

Old MacDonald's Farm gets its own short chapter because it had two locations in Orange County. After 15 years at Knott's Berry Farm, Old MacDonald's Farm moved to Mission Viejo in 1969.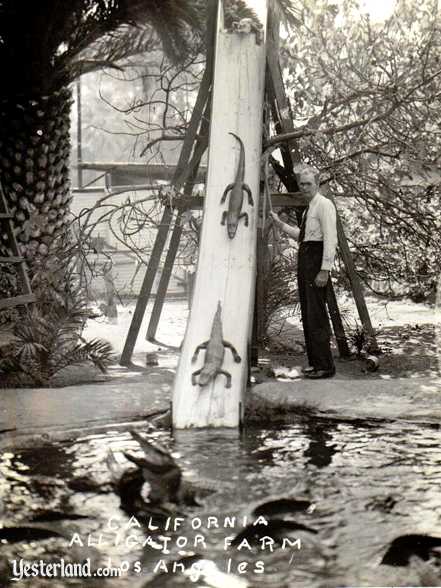 California Alligator Farm
Yes, I enjoyed the book, but there's one major omission... I was looking forward to seeing pictures of the Buffalo Ranch in Corona del Mar. The park featured a herd of buffalo roaming the hills east of Upper Newport Bay. There were also various rides for children, American Indian storytelling and cultural demonstrations, a restaurant serving—you guessed it—buffalo burgers, and a gift shop. For years I would drive by the red barn of the Buffalo Ranch after it became architect William Pereira's office. But I never saw it back when it was a visitor attraction. Alas, there's not a single picture or single word about the Buffalo Ranch in the book.
Maybe Richard Harris could use the Buffalo Ranch as the start of another book.
---
About the Author of Early Amusement Parks of Orange County


Richard Harris, 49, is a native of Yorba Linda. His keen interest in amusement park history comes honestly; his interest in the amusement parks came at an early age. Richard grew up in Orange County and has operated rides at Knott's Berry Farm and Disneyland.

The vintage images gathered for his book present a window to the past. Some of the pictures, which have never before been seen or published, came from private collections, museums, and from the Orange County Archives.

Harris is an active writer for the amusement industry. His work has been featured in Amusement Today, Funworld, Grand Scale Magazines and in the Outdoor Amusement Business Association publications. His lifelong fascination for the amusement park industry has been channeled into articles on rides and rider safety.

When not writing or doing research, Harris finds time to visit the amusement parks in Southern California.

He hopes that this work will bring back fond childhood memories and inspire the telling of more colorful stories. Harris regards the book as a gift to the amusement park industry.


Richard Harris

Photograph and biography of Richard Harris provided by Arcadia Publishing.

---
Click here to discuss this page on the Yesterland Discussion Forum at MiceChat!
---
You can purchase Early Amusement Parks of Orange County here.

---
Book: Imagineering Legends
Disneyland Encyclopedia
Home
---
© 2008-2011 Werner Weiss — Disclaimers, Copyright, and Trademarks
Last updated April 2, 2011.
Early Amusement Parks of Orange County book cover provided by Arcadia Publishing.
Photograph of El Camino Real gateway at Knott's Berry Farm: Courtesy of Orange County Archives.
Photograph of California Alligator Farm: Courtesy of Richard Harris.
Photograph Richard Harris provided by Arcadia Publishing.
Early Amusement Parks of Orange County © 2008 Richard Harris.

Disclosure per FTC guidelines: This is a book review of Early Amusement Parks of Orange County. Werner Weiss received a free review copy of the book in 2008. Mr. Weiss does not receive any financial consideration from the publisher or the authors. When readers order the book from Barnes & Noble using one of the links on this site, Mr. Weiss receives a commission from Barnes & Noble.