Kazim, the proprietor and master of ceremonies, welcomes you to his establishment. The fun is about to begin when Aladdin attempts to escape from Jafar by ducking into Kazim's place.
On a warm summer night, sit below the massive limbs of a magnificent (though artificial) tree in this full-service, outdoor restaurant. Enjoy a delicious meal of exotic delicacies, including papadam wafers with mint chutney sauce, fresh fruit with honey-yogurt sauce, shish-kebobs (beef, chicken, or vegetarian), raisin-nut rice pilaf, tabbouleh, and dessert.
As you enjoy your multi-course meal, you're entertained with music, magic, dancing, special effects, and comedy by Aladdin, Princess Jasmine, Jafar, Iago, a belly-dancing harem group, and, of course, the fabulous Genie of the Lamp! You might even become part of the show.
The Genie has big plans for your dessert—it's not just the final course; it's also a musical and theatrical production. Rub the brass lamp on your table, and make a wish. There's a puff of smoke from your lamp, and a "genie" brings you a chocolate Aladdin's lamp filled with chocolate mousse and berry topping—while other "genies" serve other tables. What showmanship in Kazim's establishment!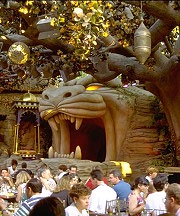 ---
Aladdin's Oasis opened in Disneyland's Adventureland in 1993, replacing the beloved Tahitian Terrace. During two summers and on selected weekend days during other seasons, guests enjoyed the Aladdin's Oasis feast and show. Unfortunately, the economics didn't work out, and the show was discontinued.
In 1995, Aladdin's Oasis continued to operate as a full-service restaurant on Disneyland's busier days. Tables continued to have excellent sightlines to the stage, but, alas, the stage was empty. In 1996, Aladdin's Oasis generally remained closed, except for occasional private parties.
In 1997, the facility became a venue for storytelling—without any food service. Kazoo, the storyteller, tells a simplified version of the movie plot and plays most of the roles, with help from Aladdin and Jasmine. There's plenty of audience interaction to keep each presentation fresh.
It's now a decade later. Aladdin's Oasis is still a storytelling venue. There are no announced plans to turn the facility back into a restaurant or dinner theater.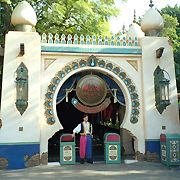 Aladdin's Oasis, the home of "Aladdin and Jasmine's StoryTale Adventures," appears to be a convenient place to throw away trash. (1998)
---
Christmas in Yesterland
Tahitian Terrace
Home
---
Disclaimers, Copyrights, and Trademarks
Updated December 9, 2006.
Photograph of Aladdin's Oasis dinner show: 1993 by Mike Kelley
Photograph of the Aladdin's Oasis patrons and stage: 1993 by Mike Kelley
Photograph of Aladdin and Jasmine's StoryTale Adventures entrance: 1998 by Werner Weiss