A few weeks ago, I received an interview request from Luke Dunsmore, the editor of a website called Theme Park Investigator. I had never heard of the site. I learned that Luke lives in Manchester, United Kingdom, and his site offers news, reviews and opinions dedicated to the Theme Park Industry in general and Disney in particular. I liked what I read and agreed to answer Luke's questions.
Luke invited me to republish the interview at Yesterland. Here it is (on the yellow background), in case you're interested.

, Curator of Yesterland, February 16, 2014
Feature: Exclusive Interview with Yesterland's Werner Weiss

BY THEME PARK INVESTIGATOR – FEBRUARY 9, 2014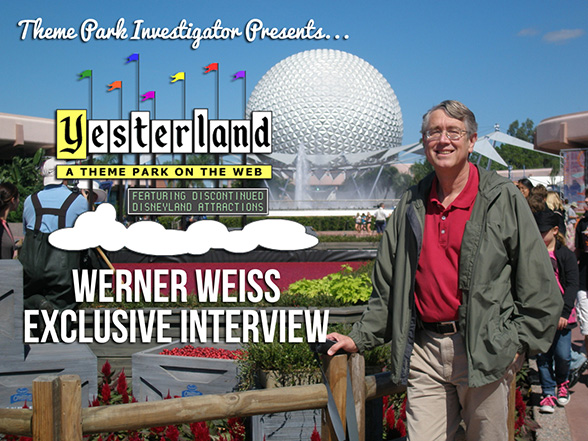 There are a whole host of fantastic homages, collections and projects dedicated to the Theme Park industry (and Disney in particular) on the web, but none are quite as long lived and as detailed as Yesterland, a living homage to the bygone days and attractions of the Disneyland Resort. We caught up with Yesterland's editor, Werner Weiss, and asked him about this fantastic project:
Theme Park Investigator (TPI): What motivated you to begin Yesterland?
Werner Weiss (WW): I was working for a network technology company in 1994. It seemed the next big thing in my field would be something called the Internet, especially because of something called the Mosaic browser. To learn about them, I signed up with a local dial access provider. The account included 20 megabytes of space for a website. It was a perfect opportunity to be part of the emerging Worldwide Web!
Businesses, including theme parks, were just beginning to put up websites in 1994 and 1995. I had old color slides from past visits to Disneyland. It seemed that people might enjoy a "virtual theme park" of things that were no longer at Disneyland. I wrote in present tense, as though these features were now at a park called Yesterland. Then, after a horizontal line, I would add historical details. That's still my format today, although I've downplayed the "virtual theme park" angle.
TPI: Of all the attractions, buildings and locations you have featured, which do you miss the most?
WW: I genuinely miss the Mine Train Through Nature's Wonderland at Disneyland. It was an outdoor ride through mountain and desert scenes, followed by a journey through Rainbow Caverns. Toward the end of its life, it could have used new show scenes, just as the Jungle Cruise received multiple upgrades over the years. Instead, a much faster mine train, Big Thunder Mountain Railroad, replaced it. Big Thunder is a great ride, but I wish both could have been worked into Frontierland.
TPI: How often do you manage to get to the Parks?
WW: Considering that I live around a thousand miles from Walt Disney World and almost twice as far from the Disneyland Resort in California, I get to the parks often. My biggest year for park visits was 2013, when I bought a Disney Premier Pass allowing entry to all Disney parks in Florida and California. I probably used it around 50 days in 2013. To balance that out, I don't expect to make any Disney park visits in 2014.
During a 12-month period in 2000 and 2001, I managed to get to all eight Disney theme parks that existed at the time. I returned to Paris a few years later after the Walt Disney Studios Park had opened. I've never been to Hong Kong Disneyland or Tokyo DisneySea.
TPI: Does your study of the Parks make you aware of even slight changes every time you visit? Do you look out for them?
WW: Because I spend a lot of time going through my collection of old Disney park photos looking for images for articles, I'm more conscious of how things used to look. Changes at the parks are probably more apparent to me than to most other guests.
Since I bought my first digital camera in 2002, I've been trying to capture things that might be gone in the future. I've also been fortunate to receive wonderful photo collections from Yesterland readers.
TPI: There's a huge amount of information on the site. Do you plan to keep adding, or will you be happy at some point with the archive as it is?
WW: I'll keep updating Yesterland as long as I enjoy it. Yesterland grew slowly beginning in 1995, but I began adding new content every Friday in 2006. I've never had a problem coming up with a topic. Not all Yesterland articles are about defunct features of Disney parks, but most are. At some point, I might cut back on how often I update Yesterland.
TPI: What does the future hold for Yesterland?
WW: In a way, the answer depends on what Disney does. I have to believe that Journey into Imagination with Figment at Epcot won't be around in its current form too much longer. I think it's time for Captain EO to say goodbye again, but there's nothing to replace the 2010 Tribute version of the 3D movie from 1986.
I already have a list of topics that will take me through much of 2014. Camp Minnie-Mickey at Disney's Animal Kingdom closed forever at the beginning of the year.
I have photos of most attractions, restaurants, shows, and landmarks at the six Disney theme parks in the United States. Even if Disney closes Radiator Springs Racers at Disney California Adventure, I'm ready — but I really don't expect that to happen.
You can also find Yesterland over on Facebook. Check them out!