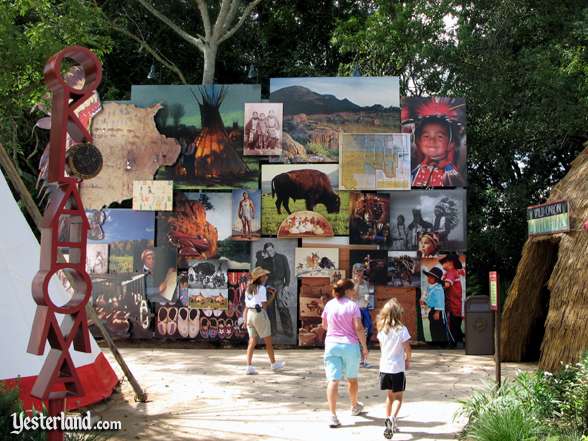 Welcome to Oklahoma in Florida.
Oklahoma at the Epcot Food & Wine Festival, 2007



, Curator of Yesterland, takes another look
at the 12th Annual Epcot International Food & Wine Festival

October 26, 2007
Here's a geography question for you... What's located between France and Morocco?
The answer isn't Spain and the Mediterranean Sea—at least not at Epcot. During the 12th annual Epcot International Food & Wine Festival, the answer is Oklahoma.
In my article about the festival two weeks ago, I wrote, "I could write a whole article just about the terrific Oklahoma exhibit." So that's what I've done.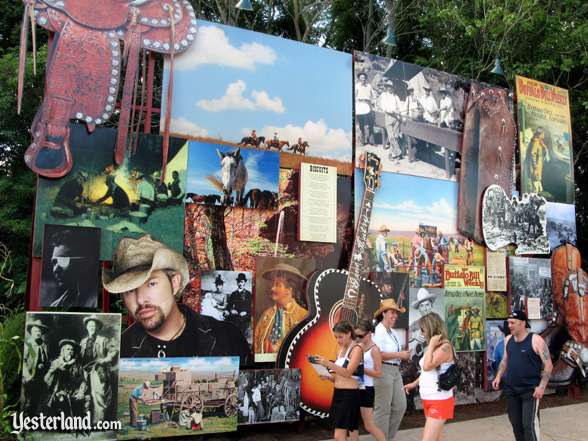 Talk with ambassadors from Oklahoma in front of giant montages.
According to the Festival booklet, the Oklahoma exhibit is officially called "CELEBRATE OKLAHOMA! A Unique History. An Extraordinary Future."
Although various countries (or regions of countries) have had temporary exhibits at the Epcot Food & Wine Festival over the years, this is the first time for a state of the United States. Oklahoma is celebrating 100 years of statehood this year, and the Oklahoma Centennial Commission decided to get the word out at Epcot.
When most people think of vacation destinations, it's unlikely that Oklahoma is high on their list. Oklahoma officials want to change that.
A 45-day presence at Epcot isn't cheap. According to an August 1, 2007, article in Tulsa World, "The exhibit will cost about $1.2 million, of which $500,000 is coming from the Oklahoma Centennial Commission and the rest is being raised privately, [Oklahoma Governor] Henry said."
It's quite an exhibit, dominated by three photo montage walls, each 12 feet high and 21 feet wide. There's a stage for performances, a culinary demo kitchen, a children's activity center in a tipi (teepee), two food and beverage kiosks, an arts and crafts area, a gift shop, a genuine chuck wagon, and friendly Oklahoma "ambassadors" in white logo shirts and straw cowboy hats who talk to guests about their state's many visitor attractions.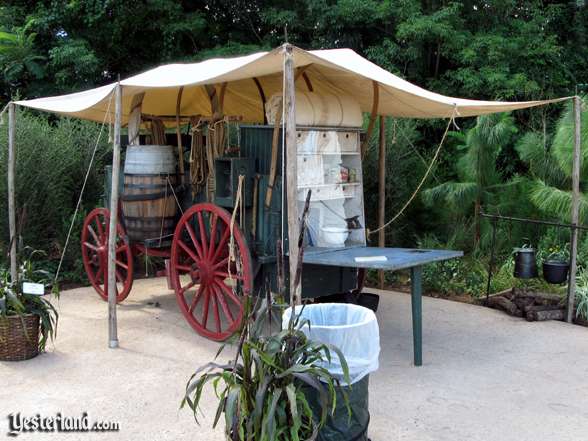 Examine a genuine chuck wagon.
The chuck wagon is on loan from the National Cowboy & Western Heritage Museum in Oklahoma City, which also sent experts to talk with Epcot guests.
Cowboys on cattle drives needed to eat. A rancher named Charles Goodnight came up with the idea of converting Army supply wagons into mobile kitchens. The result was the chuck wagon. I asked if the chuck wagon was named for the "chuck" cut of beef or if "Chuck" was Charles Goodnight's nickname. The answer was the cut of beef.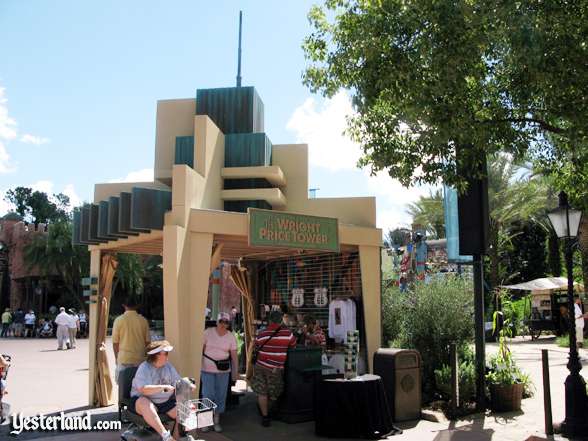 The merchandise shop is modeled after Frank Lloyd Wright's Price Tower.
Architect Frank Lloyd Wright's only skyscraper is in Bartlesville, Oklahoma. Price Tower opened in 1956, and is 211 feet tall, with 19 stories. Its Epcot counterpart is much shorter, but retains some of the Wright's distinctive style.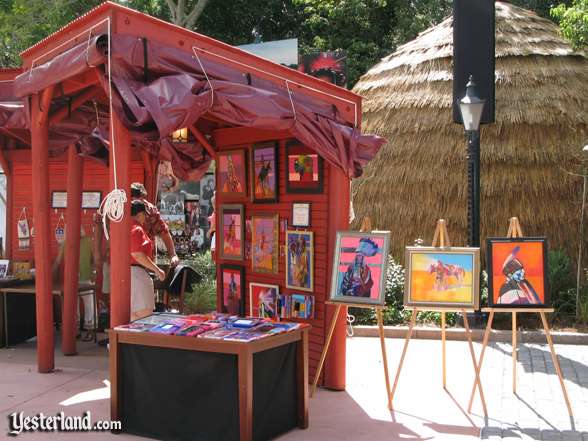 See and purchase art from Oklahoma.
The art for sale at the Oklahoma exhibit changes every week. That's smart because many local guests and out-of-town guests with long vacations visit the Epcot many times during the Food & Wine Festival. The artists are there too. We purchased ceramic trays from Mel Cornshucker, an accomplished Cherokee potter.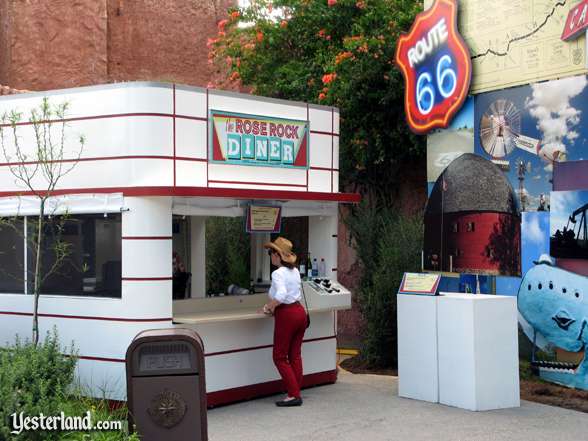 The Rose Rock Diner is one of two eateries in the Oklahoma exhibit.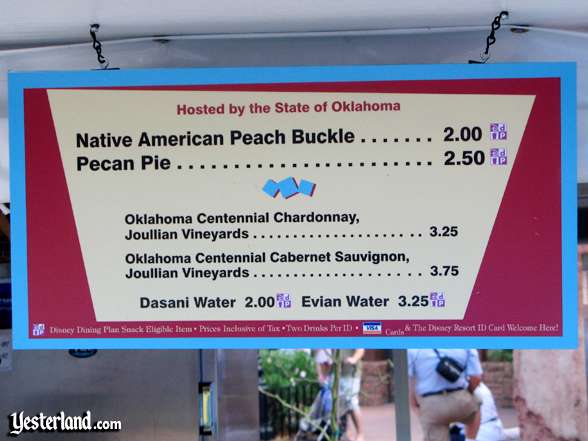 The Rose Rock Diner's menu offers dessert, wine, and water.
The Rose Rock Diner is cleverly designed to reflect the diners that were once along Route 66. I tried the Native American peach buckle. It was quite tasty. I expected something like a cobbler, but it was more like a corn meal cookie with fresh peaches emerging from the top.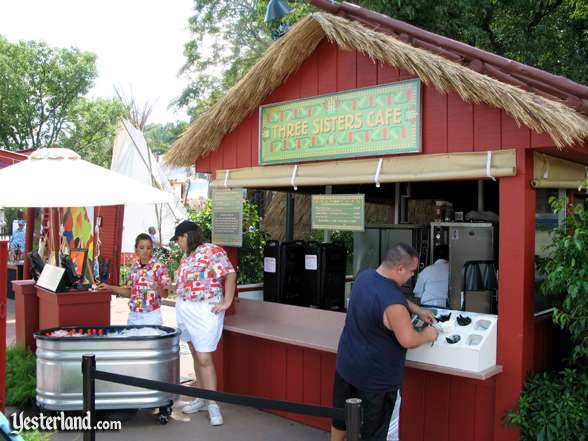 The Three Sisters Cafe is the other eatery at the Oklahoma exhibit.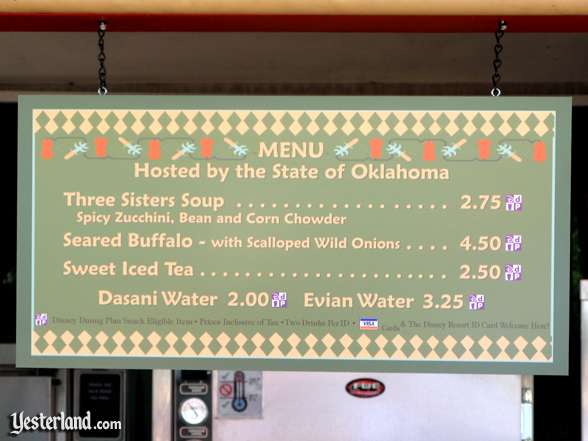 The menu of Three Sisters Cafe is based on Native American foods.
The Three Sisters are three crops that were important to traditional Native American farmers, and were often planted together—corn, beans, and squash. According to an informational sign, "Corn gives the beans a pole to climb up; the beans climb the corn and feed the soil for the corn; the squash keeps the soil moist for the thirsty crops, and it keeps away raccoons and other pests with its spiky stems."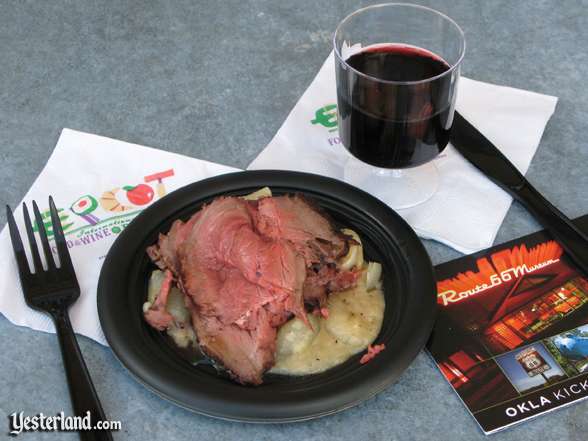 The seared buffalo and the Oklahoma Centennial Cabernet Sauvignon are a good pairing.
I bought seared buffalo from the Three Sisters Cafe. I then walked over to the Rose Rock Diner to get some wine to go with the buffalo. I thought this might be a good opportunity to taste wine from Oklahoma, which I've never had before.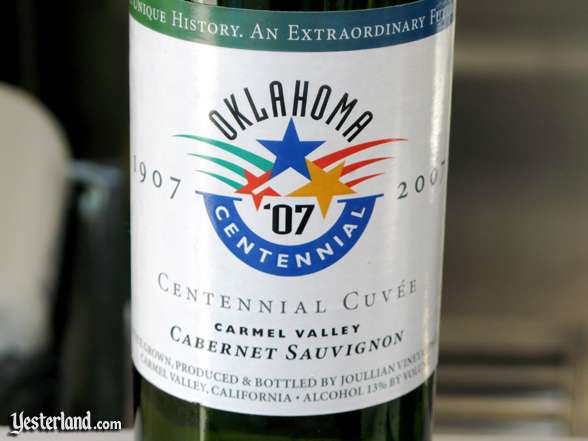 An examination of the Oklahoma wine labels reveals that they're from California.
I still haven't tasted wine from Oklahoma. It turned out that the Oklahoma Centennial wines are from Joullian Vineyards, a winery in California's Carmel Valley. The Oklahoma connection is that the winery is owned by an Oklahoman, Dick Sias. Oklahoma has 30 or 40 wineries, but they tend to be very small operations. Apparently none of them was able to supply the needs of Epcot.
The seared buffalo with scalloped wild onions was delicious, and the not-from-Oklahoma wine was very good with it.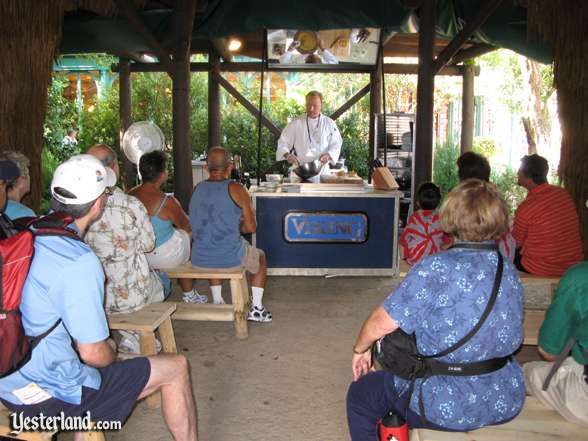 Chef Keith demonstrates how to make peach buckle.
Chefs from the Coach House restaurant in Oklahoma City give cooking demonstrations in The Wild Onion Kitchen, a structure based on the grass houses of the Wichita tribe. The recipes include chuck wagon stew, scratch biscuits with cream gravy, beans & cornbread, Native American peach buckle, Three Sisters soup, and Three Sisters salad.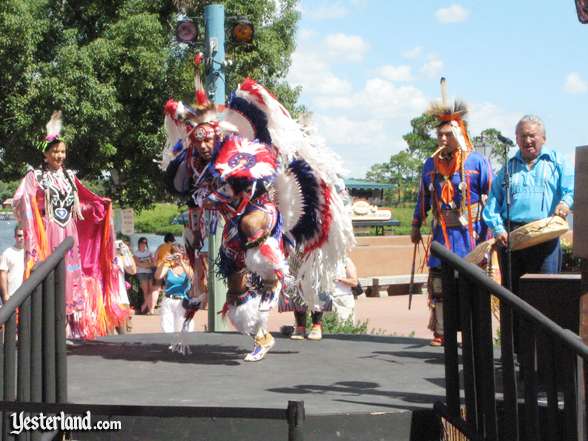 The Oklahoma Fancy Dancers demonstrate dances from tribes within and beyond Oklahoma.
Just as the art for sale changes every weeks, so do the chefs at the Wild Onion Kitchen, the Oklahoma ambassadors, and the entertainers. The Oklahoma Fancy Dancers were spectacular. This highly acclaimed Native American dance troupe performed dances from various American Indian tribes with unbelievable skill and energy. I returned to watch several times because they were so good. (I felt a bit sorry for them as they performed in full regalia in the Florida heat and humidity.)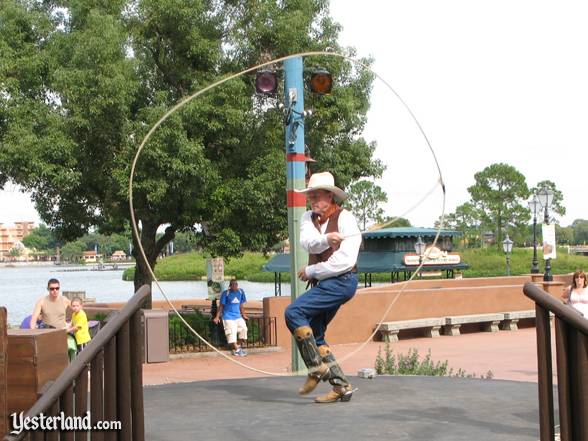 Oklahoma trick roper Richard Heinrich shows off his skill with a lasso.
Richard Heinrich is a high school government teacher, a rancher, a fascinating guy to talk to, and an amazing trick roper.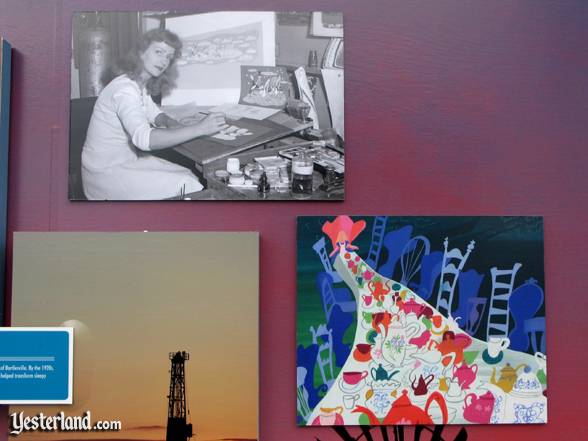 One montage includes Mary Blair with concept art for Disney's Alice in Wonderland.
As I examined the montage wall closest to the Rose Rock Diner, I was surprised to see a photo of artist Mary Blair and an example of her work. Mary Blair was born October 21, 1911, in McAlester, Oklahoma. She is remembered today for it's a small world, spectacular tile murals, and concept art and color styling for Walt Disney's animated features of the 1940s and early 1950s.
There is no caption next to her photo and art, and there's no information on the "cheat sheet" that the Oklahoma ambassadors use to discuss the montages with guests. But guests who admire the art of Mary Blair should be pleased to see her represented as one of Oklahoma's contributions to the world.
---
I enjoyed the Oklahoma exhibit. Otherwise, I wouldn't have returned to it numerous times while I was at the 2007 Epcot Food & Wine Festival.
From the perspective of the Oklahoma officials who funded the exhibit, the real question is undoubtedly whether Epcot visitors will become Oklahoma visitors. In my case, the answer is a "maybe." I've never thought of visiting Oklahoma before. The state just wasn't on my vacation radar. But now I'm aware of such attractions as the National Cowboy & Western Heritage Museum, the American Indian culture in Oklahoma, and the state's many historic sites. So I now find the idea of visiting Oklahoma appealing. But I've already booked another Central Florida trip since returning home, and so far I haven't given any more serious thought to Oklahoma.
I hope that other states will follow Oklahoma's lead. Arizona and New Mexico will celebrate their statehood centennials in 2012. But any state could reach out to Epcot guests to promote their tourism, foods, wines, culture, and products, even if they're not celebrating a milestone anniversary.
---
The 12th Epcot International Food and Wine Festival runs from Friday, September 28, through Sunday, November 11, 2007.
---
Ratatouille: Big Cheese Tour
Epcot Food & Wine, 2007
Home
---
© 2007-2008 Werner Weiss — Disclaimers, Copyright, and Trademarks
Updated December 19, 2008.
All photos of Oklahoma at the Epcot Food & Wine Festival: Werner Weiss, 2007