, Curator of Yesterland, visits the
13th Annual Epcot International Food and Wine Festival

November 7, 2008
Last week, I wrote about The Festival of Marketplaces, Cultural Displays, and Concerts. Now it's time to look at the more hidden Food & Wine Festival—The Festival of Complimentary and Paid Events.
The events attract serious, multi-day Food & Wine Festival attendees. These foodies and knowledgeable wine aficionados buy multi-day tickets or annual passes specifically for the festival; they buy Disney Vacation Club (DVC) memberships or book long resort hotel stays; they reserve expensive events such as Wine Schools and Exquisite Dinners; and when they're not at festival events, they might be at Disney's Signature Restaurants, ordering well-paired wines with their dinners.
There is good news and bad news this year.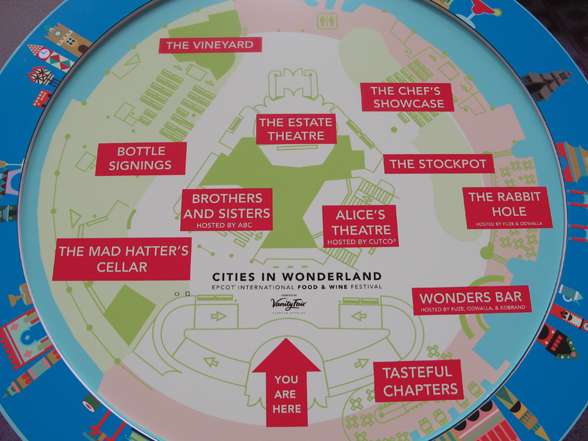 The former Wonders of Life pavilion is the Festival Center.
Good News: The Food & Wine Festival is back in the former Wonders of Life pavilion, now called the Festival Center. Last year, I was thrilled that some parts of the festival—the wine tastings, bottle sales, gift shop, wine bar, and book signings—moved into the former Wonders of Life pavilion. I hoped that the Festival Center would be used again this year.
Bad News: The festival no longer uses Odyssey Center at all. Last year, culinary demonstrations and paid daytime events took place in Odyssey Center. This year, those functions have been squeezed into the Festival Center. This allows Disney to rent out Odyssey Center for corporate functions, weddings, meetings of trade organizations, and other catered events—instead of having Odyssey Center unavailable for these profitable uses for six weeks. For festival goers, it's a big cutback.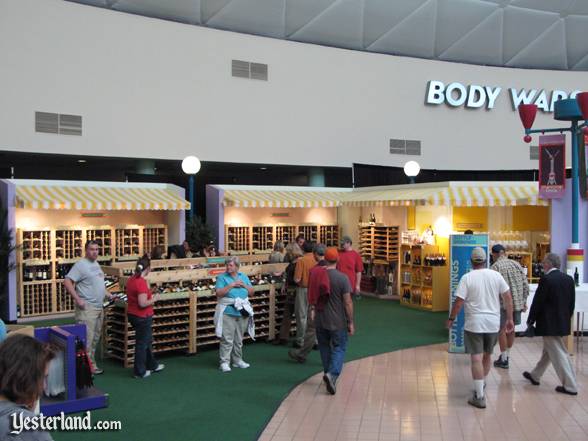 The old Body Wars sign is still lit up above the wine shop.
Good News: With culinary events—in addition to wine tasting events—in the Festival Center this year, there's more activity in the Festival Center this year.
Bad News: The Festival Center was designed as an attraction pavilion, not as a conference center. Although the planners of the Food & Wine Festival tried to make good use of the space, there are problems with the layout of the pavilion and with noise from amplified presentations being heard throughout the space.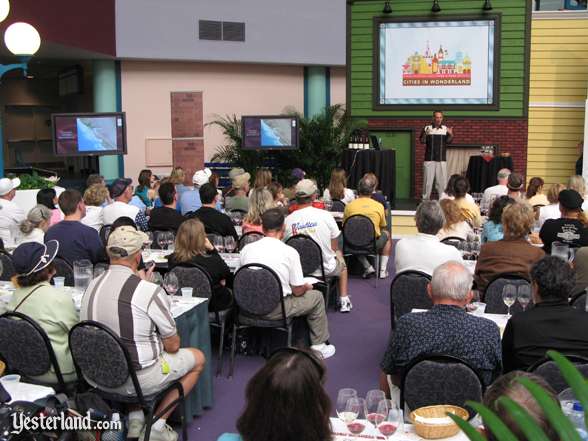 Rick Bonitati from the La Crema Winery presents a wine seminar.
Good News: Wine seminars are back. Once again, guests taste wines from real glasses, not plastic cups, while winemakers, winery owners, and wine distributors educate the audience about their wines. There are more video monitors for the PowerPoint presentations that most presenters bring, so they're easier to read from more angles.
Bad News: This year, there's only a single 100-seat wine seminar "room" in the Festival Center. Last year there were two 100-seat wine seminar "rooms," with both used each afternoon. This year there are only around five wine seminars each day, compared to eight or nine last year. This is a significant cutback. If you do the math, it means many disappointed guests due to far less capacity.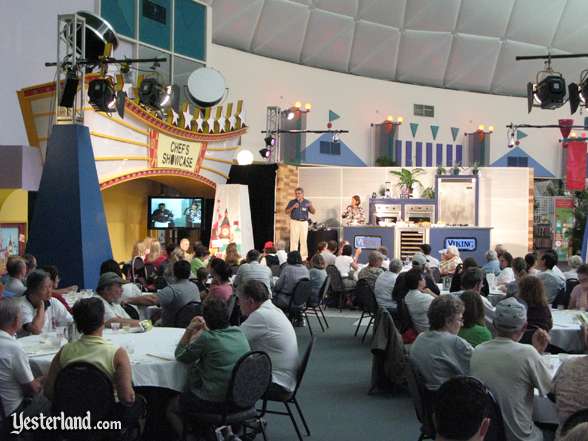 The Culinary Demonstrations have are now held in the Festival Center.
Good News: The culinary demonstrations are back.
Bad News: They're no longer in Odyssey Center—but that's not entirely bad news. Odyssey Center had better sightlines, a better table arrangement, better lighting, and offered a more dramatic setting. Also, the delicious smells from the stage at Odyssey Center would float into the audience rather than up into the high dome of the Festival Center. Most importantly, Odyssey Center had plenty of space; Odyssey Center would have had enough room to expand beyond the 100-guest audience size last year to a more appropriate capacity such as 120 seats. This year, there are only 96 seats—even though there's more demand than ever—because there's no room for more tables in the oddly shaped space in the Festival Center. However, there's also something very good about having the culinary demos, wine seminars, talks by authors, "Authentic Tastes" food talks, the wine bar, the gift shop, the wine shop, and comfortable seating areas all under one roof.

Complimentary culinary demos include sample portions.
Good News: Many of the culinary demos now include a sample of wine. Last year, that seldom happened. This year, someone came up with the excellent idea of allowing the wineries to present wine as part of the culinary demo program.
Bad News: The winery representatives often take around 15 minutes to talk about the wine, delaying the start of the culinary demo and stealing time from the chef. Also, there has been very little effort to pair the wine with the food that the chef is preparing; although it's sometimes a happy coincidence that works anyway.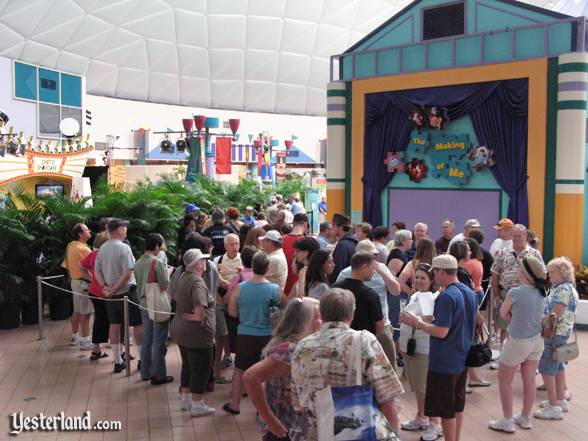 The queues for culinary demos are indoor this year.
Good News: The lines for the culinary demos, wine events, author talks, and Authentic Tastes are all indoors this year. This is a big improvement over the outdoor lines that subjected guests in earlier years to Florida heat and rainstorms. By the way, this is the official reason that the culinary demos were moved to the Festival Center; it's because guests didn't like to wait outside.
Bad News: The waits are longer than ever. With high demand and reduced capacity, it's often necessary to get in line around an hour before the scheduled start time. In the past, that's always been the case when the chef was a celebrity chef or the wine was fine Champagne. But now it's becoming the rule for even the most obscure wines and chefs, especially during prime afternoon hours. For Iron Chef Cat Cora, guests arrived more than three hours before; and by two hours before, it was much too late to get a spot.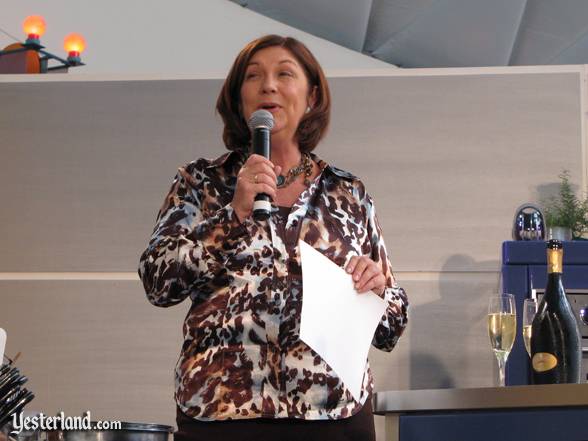 Pam Smith is back as the Festival Program Host.
Good News: Pam Smith is once again the host for culinary demos and many paid events, as she has been for over ten years. Every year, my respect for Pam grows. She is a skilled host who knows how to get chefs to talk and how to make sure the chefs' comments are in layman's terms. She asks good questions of the chefs, keeps the demos flowing, and also knows when to leave the chefs alone. Pam imparts joy and humor into the demos. It turns out that Pam is herself a skilled chef, nutritionist, and a menu consultant for restaurants such as the excellent Seasons 52, with particular expertise in cuisine that's both healthy and tasty.
Bad News: Pam is off on Mondays and Tuesdays, which she certainly deserves. In the past, there has been a guest host on those days. For example, last year comedian/magician John Ekin filled in on Mondays and Tuesdays. Although not a culinary expert, John's professionalism and sense of humor made him a good choice. This year, in a major cutback from past years, the culinary demo program is not offered on Mondays and Tuesdays. Sure, Disney saves money not only on the host, but also on the kitchen staff and the cast members involved with each culinary demo. But for guests, it means disappointment on Mondays and Tuesdays—especially for foodies who booked DVC vacations with Sunday-night check-ins (requiring fewer DVC points).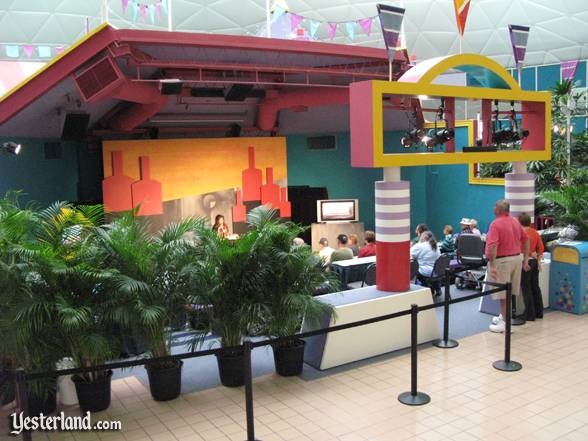 The former Anacomical Players space now seats 40 for presentations.
Good News: Disney reworked the space where the Anacomical Players improvisational shows used to be presented into a 40-seat presentation space. One Fridays, Saturdays, and Sundays during the festival, authors and food purveyors give presentations. It's an intimate space with excellent sightlines due to the stadium-style seating.
Bad News: There are too few presentations, and there no presentations at all most of the week. Let's hope that this space is used more extensively next year.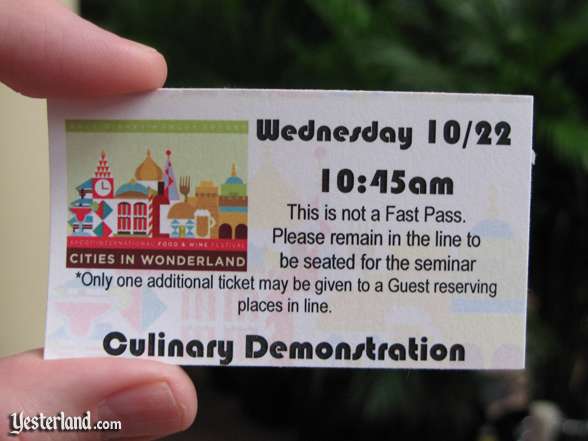 Tickets for complimentary events are a great improvement over past years.
Good News: This might be the best news of all this year. Cast members now distribute tickets for each event, typically beginning about a half hour before the start time. If you have a ticket, you get into the wine seminar or culinary demo. If not, you don't (unless there's a no-show, which is rare). In past years, cast members tried to use handheld counters to keep track of who would and wouldn't be able to get in, but it was inexact because some guests would allow friends to join them. The ticket system is much, much better.
Bad News: The tickets are good, but they can't make up for the cutbacks in capacity this year. It's still necessary to wait in long lines. Although there's much discussion in line of how Disney could make the ticket system work more efficiently, that real issue is that there are too many guests and too few seats due to the cutbacks. Any other type of ticket distribution system (including something that would be more like FastPass) might be better for some guests, but not as fair to others.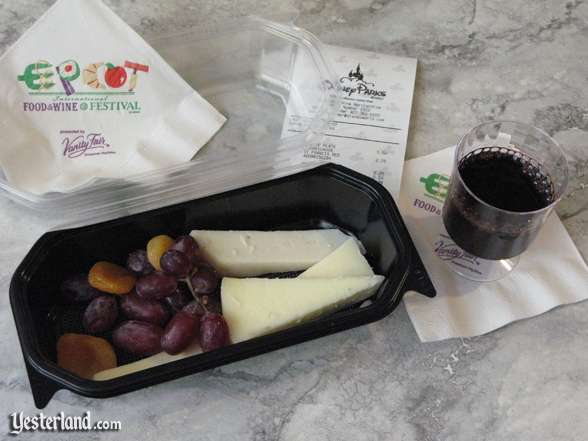 The wine bar now sells cheese too.
Good News: There's a counter that sells wine by the (small) glass, fruit beverages, snacks, and cheese. The cheese plate—Asiago Pressato from Italy, Manchego from Spain, and Dorothea from Holland—is new this year.
Bad News: The selection of wines is limited because they're from a single distributor (Kobrand) who apparently paid for the rights to be the exclusive seller of wines by the glass. It would be nice if the wine bar also sold other food, such as gourmet sandwiches and freshly baked goods.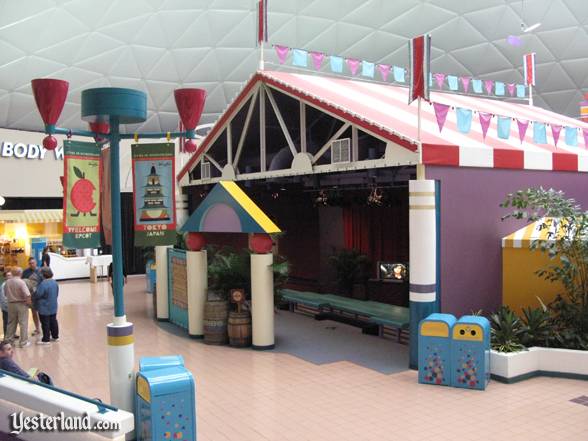 The Brothers & Sisters promotion is a waste of space.
Good News: I'm not sure I can think of any good news here. The old Goofy About Health theater is now devoted to promoting the ABC series Brothers & Sisters, set in the fictional Walker's Landing Winery. Somebody must have thought that there is natural synergy between a television program set at winery, but nobody is watching the video.
Bad News: It's a waste of valuable, limited space. There's a third theater that's also a waste of space; the former The Making of Me theater is locked this year. Last year, it showed PBS cooking show videos and a Disney Vacation Club promotional video, but there wasn't much interest. It would be great if these two theaters would be converted to benches and long tables like the former Anacomical Players space, and that all three spaces could be used for informal wine seminars (perhaps with plastic glasses), food seminars, author talks, conversations with chefs, and other scheduled events of interest to Food & Wine Festival guests. It would be a good way for wineries, food companies, and authors to reach a much larger total audience, and for Disney to give guests far more choices (and less disappointment). These wouldn't have to be events that require an army of Disney cast members or a formal ticket distribution process.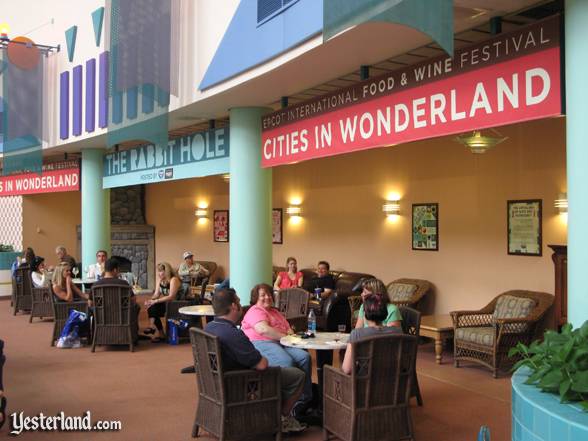 The Rabbit Hole is a comfortable place to relax with a snack.
Good News: It's easy to make friends in line, and the Rabbit Hole provides a place to socialize.
Bad News: There's no bad news here.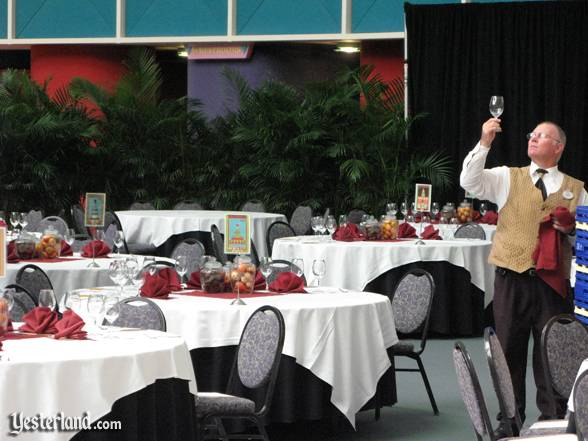 $70-per-guest Cheese Tastings deserve—and get—spot-free glasses.
Good News: Although there are fewer paid events this year, the paid daytime culinary events—Kitchen Conversations, Sweet Sundays, and The Cook, the Book, and the Bottle, and Cheese Tastings—are back this year.
Bad News: These events take place in the culinary demo space at the Festival Center, not in Odyssey Center. Despite attractive centerpieces on the tables and spot-free glasses, there's no hiding that the space isn't anywhere near as elegant as Odyssey Center can be when it's nicely decorated. To make matters worse, whenever there's a paid event, there can be no complimentary culinary demos and there are no wine seminars either because the wine seminars make too much noise! That means that the already curtailed wine seminar schedule is cut back even more for a couple of hours, four days each week. Surely there are other places where these paid events could be held, including the VIP Room at the Festival Center (where Wine Schools are held) or the VIP lounge in Norway, just to name two.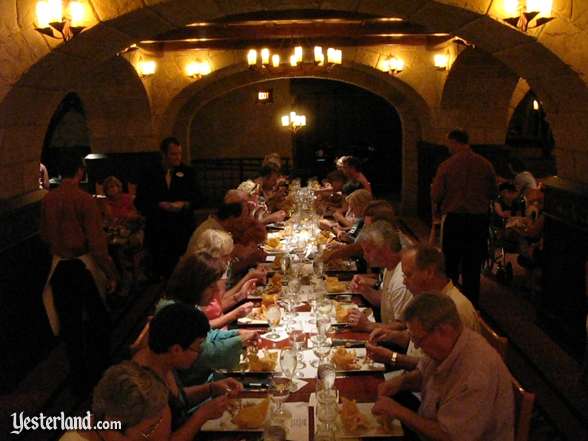 Food & Wine Parings at Le Cellier are just a memory (2007 photo).
Good News: Disney saved me $1,384.50 this year.
Bad News: I didn't want to save $1,384.50. Please let me explain. For the August morning in 2007 when 2007 Food & Wine Festival event bookings began, my wife and I set the alarm clock so that we could be on the phone with Disney Dining at exactly 7:00 a.m. Eastern Time. We booked three Food and Wine Pairings at Le Cellier, two Food and Wine Pairings at Coral Reef, a Food and Wine Pairings at Tutto Italia, a Regional Feast (Peru), a Signature Dinner at the California Grill, and the South African Wine Adventure, for a total of $1,384.50 (for two people). This year, after we saw the event schedule, we didn't bother to set an alarm clock. The Food and Wine Pairings at Le Cellier and Coral Reef are gone. Due to the Disney Dining Plan, these restaurants are no longer empty in the middle of the afternoon, when the pairings used to be scheduled. Presumably, they can make more money with their regular menus. The values have become worse and worse over the years. For example, I really can't see spending $70 plus tax per person for four wedges of artisanal cheese and two glasses of wine, even if the cheeses are tasty, the wine glasses are spot-free, and there might be an interesting cheese expert at the front of the room. Our two expensive dinner events in 2007 were disappointing compared to similar events in earlier years, but there were so few dinner choices this year that we didn't have to discuss whether to risk it again. Oh, and when you book a paid event with Disney in August, it's non-refundable, even if your plans change by October or November—which is another reason not to book at all.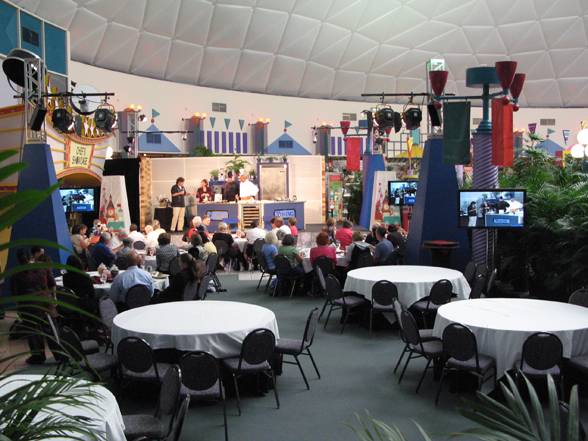 Fewer than 50 guests participated in this paid "Kitchen Conversation"
There is much that is very good about the Epcot Food & Wine Festival. (The cast members are absolutely terrific.) But there was more grumbling in lines this year than I've ever heard before.
Yes, I know that Disney is a for-profit business and that Disney is concerned about what the economic crisis will do to attendance and spending in 2009. But Disney also needs to be concerned about providing the festival experience that guests expect and making sure that guests consider events purchased at premium prices to be worth those prices.
Disney needs to keep up with the increased demand for wine seminars, culinary demos, and other complimentary events. Wineries can reach more potential customers if there are more repeated events—it will cost them less per customer to reach those additional customers because the fixed costs that wineries face in flying wine speakers to Florida and putting them up in hotels is the same whether they present to a single audience of 100 or four audiences of 100 each time; it just means shipping some additional promotional cases of wine to Florida. Such repeated events should represent additional capacity, not simply unwanted "reruns" for guests who have already attended the seminar.
Finally, Disney needs to realize that they have competition. There are wine dinners, wine tastings, and culinary events throughout the United States—and even off-site in Orlando. My wife and I are going to a wine dinner tonight, the final Friday of the Disney's Epcot Food & Wine Festival. It's at a fancy hotel—but not at a Disney hotel.
---
Festival of the Masters, 2008
Food & Wine, 2008, Part 1
Home
---
© 2008-2012 Werner Weiss — Disclaimers, Copyright, and Trademarks
Updated February 17, 2012.
All photographs of 2008 Epcot Food & Wine Festival by Werner Weiss, 2008.
Photograph of Le Cellier during 2007 Epcot Food & Wine Festival by Werner Weiss, 2007.