Topiary Mickey and Minnie welcome you to the Festival.
Epcot Food & Wine Festival, 2002:
One More Look



, Curator of Yesterland, shows you eleven more pictures from the Epcot International Food & Wine Festival, 2002

November 21, 2002
Last week, I wrote about how the 2002 Epcot Food & Wine Festival is better than last year, with pictures to illustrate each point. Now, I'd like to share more pictures with you—without a lot of text this time. You'll see a little more of what it's like to visit the Food & Wine Festival.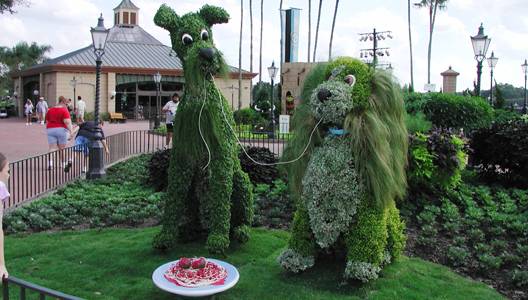 Disney and food—the romantic spaghetti dinner from Lady and the Tramp.
There are terrific garden displays throughout the Food & Wine Festival.

It's not just a culinary festival; it's also a showcase of imaginative gardening.
Herbs, spices, vegetables and other food plants—all nicely labeled—grow in pots at the International Marketplaces. Adjacent to the Florida Marketplace, a clever garden display features citrus fruits.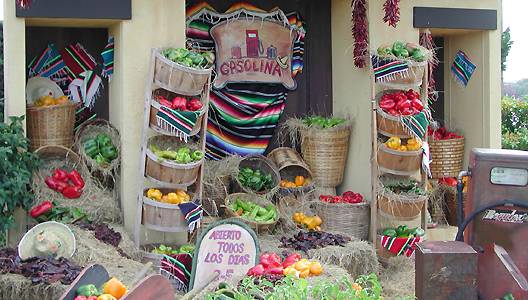 100 types of peppers are creatively displayed in a "gasolina" station...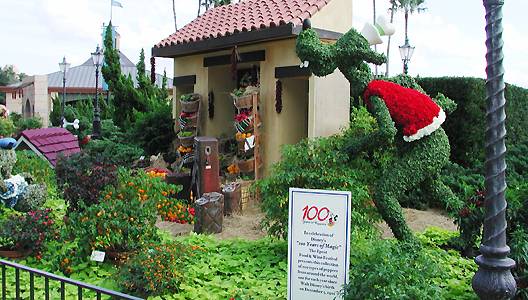 ...and a topiary Goofy is the station attendant.
Here's what the sign says:
100 Types of Peppers
In celebration of Disney's "100 Years of Magic"
The Epcot Food & Wine Festival presents this collection of 100 types of peppers from around the world, one for each year since Walt Disney's birth on December 5, 1901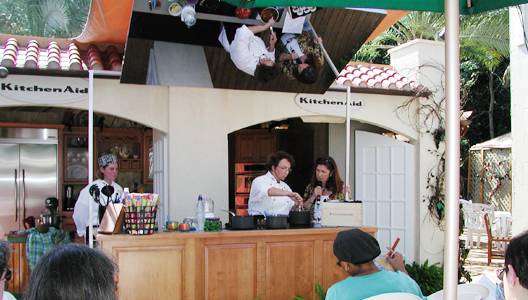 Chef Anette Grecchi Gray from Jiko..the Cooking Place with emcee Pam Smith.
An overhead mirror allows the audience to see what the chef is preparing.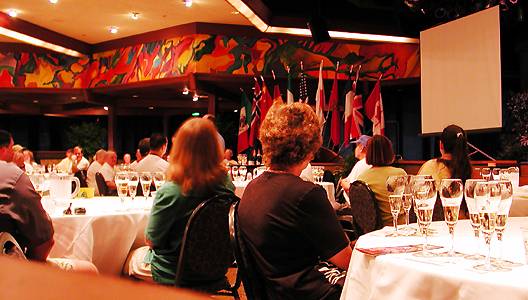 Guests each had five samples at Champagne and sparkling wine at this seminar.
Chilled wines remained chilled in the air-conditioned Odyssey Center.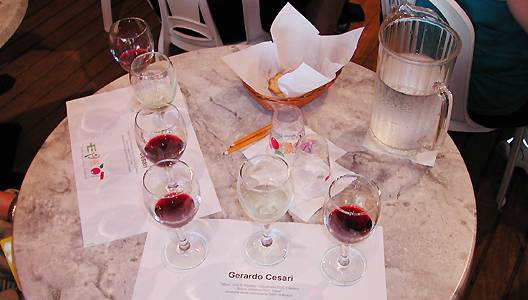 A table in the wine seminar tent at The Terrace is ready for two guests.
For each wine tasting, there's a specially printed place mat, pencils to take notes, water and crackers. Very nicely done.

The wine seminars at The Terrace exit into the "Wines of the World" shop.
The "Wines of the World" shop provides an opportunity to purchase some of the wines that you've tasted during wine seminars.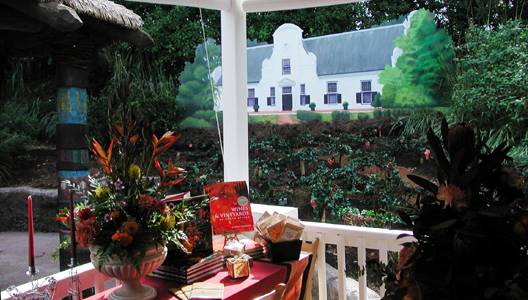 The seminar room at The Cape of South Africa had a view into a simulated vineyard.

Flamenco dancers entertained Epcot guests at "Discover Andalucia, Spain."
I hope the pictures on this page have conveyed the idea that the Epcot Food & Wine Festival is far more than just some booths selling small portions of international foods and wines.

---
Food and Wine Festival, 2006
Food and Wine Festival, 2002
Home
---
© 2002-2008 Werner Weiss — Disclaimers, Copyright, and Trademarks

Updated December 19, 2008.

Photographs of Epcot International Food & Wine Festival by Werner Weiss, 2002.