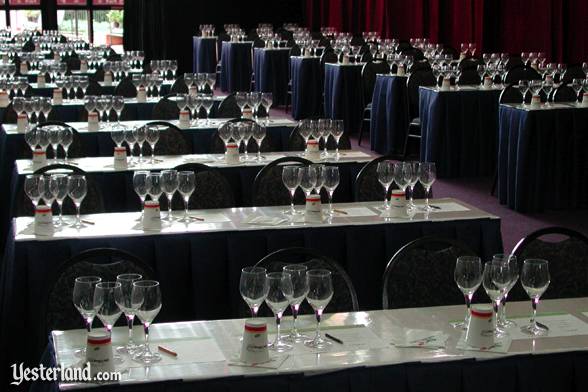 Not Just Food Booths:
The Other Side of the Epcot Food & Wine Festival



, Curator of Yesterland, visits the
11th Annual Epcot International Food and Wine Festival

November 13, 2006
The 11th Annual Epcot International Food and Wine Festival closed yesterday after a 45-day run. My wife and I were there for 13 of those days. If you think that the Food and Wine Festival consists of nothing more than a couple of dozen temporary food booths selling small portions of food and wine, then you might wonder how anyone could spend more than two or three days.
The temporary booths that encircle World Showcase Lagoon—called International Marketplaces by Disney—are the most visible part of the Food and Wine Festival. Another well-known part of the Festival is the Eat-to-the-Beat concert series—popular oldies acts three times each evening at the America Gardens Theatre.
This article isn't about the well-known parts of the Festival. It's about the events that take place at the Odyssey Center, Innoventions West, and elsewhere in and out of Epcot, often behind closed doors.
There are two kinds of events—free and paid. The free events are culinary demonstrations, wine tasting, tea tasting, and beer tasting. The paid events, which Disney calls "Exclusive Wine & Culinary Programs," include breakfasts, lunches, wine parings, wine schools, cooking schools, and dinners, ranging in price from $40 to $300 per person, which includes the gratuity but not the sales tax.


Free Events
Free might not be exactly the right word. Free-after-you've-paid-to-get-into-Epcot would be more accurate.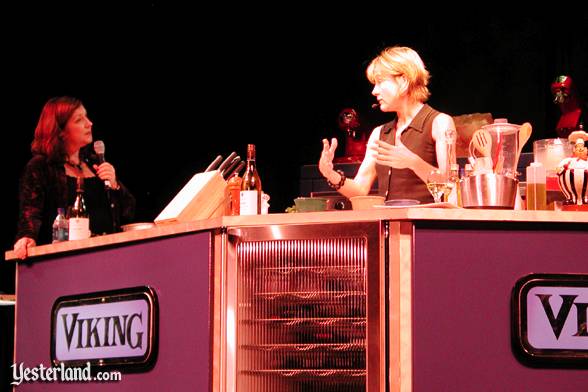 Author and nutritionist Pam Smith (left) with author and chef Sally James (right).
For the Food and Wine Festival, Epcot's Odyssey Center becomes The Chef's Showplace. Visiting chefs, Disney chefs, and other food experts prepare a recipe on stage, while a hundred guests sit at round tables watching the chef in person and on two large video screens that provide closeup views of the preparation. Each culinary demonstration lasts around 40 minutes.
It's a great setup—a huge improvement over the outdoor culinary venue that I described in my 2002 article.
The chefs are usually articulate and often quite entertaining. Host Pam Smith skillfully engages the chef in conversation to make sure that the audience understands what the chef is doing—and why.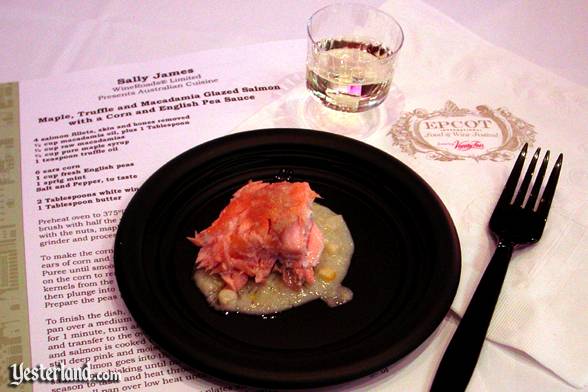 Guests at the culinary demonstrations receive tasting samples prepared in the Odyssey kitchen.
It's fun to see and smell what the chef is making, but it's better to taste it too. So, while the chef works on the stage, the Odyssey kitchen prepares a tasting portion for each guest.
Yes, there's no charge for these tastes. However, if someone is only looking for free food, the demonstrations are not worth attending. There are all sorts of tastes available around World Showcase Lagoon for a few dollars each—without investing time in the culinary demonstrations.
If someone is interested in insight from professional chefs, discovering new recipes, and learning food preparation techniques, then these culinary demonstrations are great.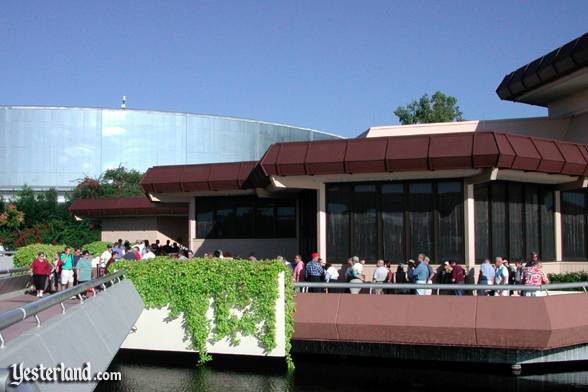 A long line of guests waits outside the Odyssey for a culinary demonstration.
Maybe I shouldn't be telling you about the culinary demonstrations. Maybe they should remain the secret of experienced Food and Wine Festival attendees. But it's already too late for that.
In earlier years, you could usually get into a culinary demonstration as long as you arrived before the start time, after which the doors were closed. Some people might be turned away on busy weekends or when the presenter was a well-known celebrity chef. But that was the exception, not the rule.
This year, the line would often reach capacity a half hour or more before the demonstration. It was worse on weekends.
Next year, Epcot management really needs to increase the capacity of the culinary demonstrations. The Odyssey Center is big enough. The chef, the host (Pam Smith), and the cameraman can play to a bigger audience. It's just a matter of adding more seating capacity, preparing more tastes, and serving more guests.
Another disappointment this year was that the Odyssey Center was used so extensively for paid events from Wednesday through Sunday, that there could often only be two or three culinary demonstrations for the entire day. Not only were the foodies disappointed by this, but it meant more demand and longer waits for the few demonstrations from Wednesday through Sunday. (Fortunately, each Monday and Tuesday, there were a half dozen culinary demonstrations.)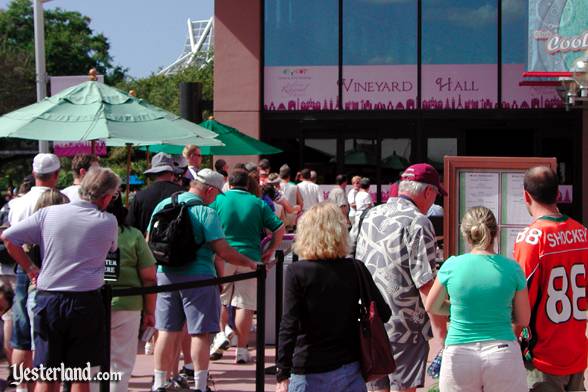 Long lines of guests waited to attend sessions at the two wine tasting halls.
Each day of the Food and Wine Festival, two halls in Innoventions West hosted a total of eight or nine wine tasting sessions. The good news was that the setup was much better than a few years ago, when most tasting sessions were in a tent without air conditioning—which wasn't good for the guests or the wines. But the setup wasn't as good as last year because the Epcot Character Connection now occupies the space that was the main wine tasting hall last year.
I've learned a lot about wine since I began going the Epcot Food and Wine Festival in 1999. I'm now buying better wines and more different kinds of wines. I've gained an appreciation for the taste and value of Southern Hemisphere wines. If you want to learn about wine and taste some very good (and a few not-so-good) wines, I highly recommend the wine tasting sessions.
Unfortunately, as with the culinary demonstrations, the wine tasting sessions now draw crowds that exceed their capacity, leading to long waits and disappointment for those who can't get in. Epcot management needs to evaluate other space in Epcot. For example, the seasonal Wonders of Life pavilion is closed during the Food and Wine Festival. Perhaps there's an opportunity to turn this large pavilion into the Wonders of Wine for 45 days each year.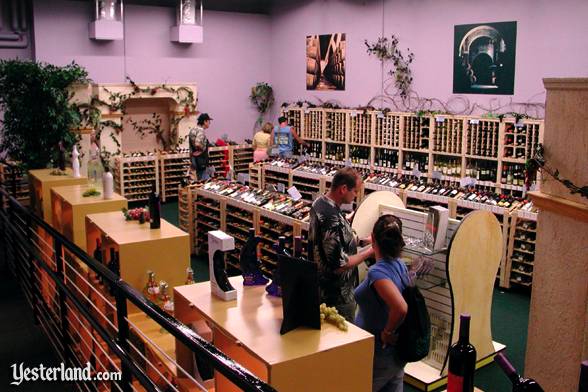 The exits from the wine tasting halls lead to the Wine Cellar.
One significant improvement this year was the pricing of the wines for sale by the bottle in the Wine Cellar. In other years, I found the pricing to be ridiculously high. For example, the same modest South African Chenin Blanc that I would sometimes buy for $6 at home was $16 at Epcot. It seemed that Epcot was charging restaurant pricing, not retail pricing, for bottles of wine. This year, as far as I could tell, the wines were perhaps $3 or $4 higher than I see in the Chicago area. That's a reasonable premium. I don't expect Disney to match discount stores.
Perhaps the pricing was more realistic because airline passengers can no longer take bottles of wine in carry-on luggage, so the wine must now be priced so that locals will buy it. In any case, I never bought bottles of wine at previous Festivals; this year, I bought two—one for our room, and one as a gift for a local.
I hope we'll see realistic pricing again next year.


Paid Events
Back in July, as soon as reservations were available, I booked a bunch of "Exclusive Wine & Culinary Programs." So, during the Festival, we attended two Sweet Sundays, one Party for the Senses, two Regional Feasts, two Food-and-Wine Parings, and a Signature Dinner. I wish I could say that they were all excellent, and that they were all money well spent, but I can't.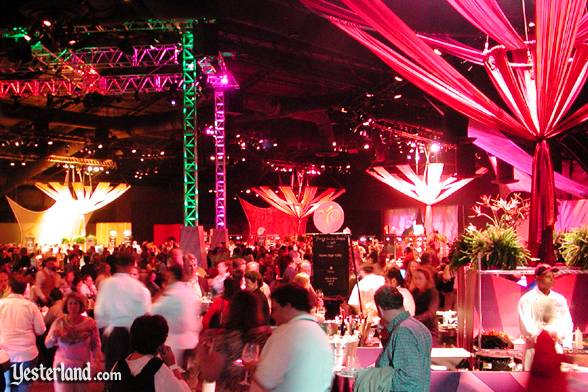 The Party for the Senses is the biggest event each week.
Disney raised "Exclusive Wine & Culinary Programs" prices significantly from 2005 to 2006. For example, in 2005, the Party for the Senses was $95 plus tax per person; but for 2006, it was $125, which works out to $266.25 (including tax) for a couple. We decided to go anyway. In 2007, we won't.
In 2005, Lunch-and-Learn events were $75 per person plus tax. We attended two of them. We were served three-course lunches (with appropriate wine with each course), while a noted chef prepared the same meal on stage and a winery representative discussed the wines. For 2006, the Lunch-and-Learn events were replaced by something called the "The Cook, The Book, & The Bottle," with a price of $150 per person plus tax. To justify the doubled price, each guest would receive an autographed book by the guest chef and a "commemorative bottle of wine." It didn't take much discussion for my wife and me to decide that we didn't want to pay for two identical autographed books (that we might not even want) and two identical bottles of wine (that we might not even want).
The Sweet Sundays were okay, but ultimately not worth what we paid. One of our Food-and-Wine Parings was outstanding; the other was disappointing.
The organizers of the Food and Wine Festival need to take a hard look at the pricing of the "Exclusive Wine & Culinary Programs." I expect to pay more for such events than for comparable food and wine at a restaurant. After all, it's an event with presentations—sometimes even a one-of-a-kind event that will never be repeated. But the pricing needs to be grounded in reality.

"Dia De Los Muertos," on November 1, honored Mexican cultural traditions.
Our two Regional Feasts ("Dia De Los Muertos" and "One Spice, Two Spice" at the Odyssey Center) and our Signature Dinner ("Soarin' Over California" at the California Grill at Disney's Contemporary Resort) were great. They were truly events.

"One Spice, Two Spice" is also the name of the new book by Floyd Cardoz.
At "One Spice, Two Spice," the food by Chef Floyd Cardoz (from Tabla in New York) and Chef Anette Grecchi Gray (from Jiko at Disney's Animal Kingdom Lodge) was outstanding. The wine from India's fledgling wine industry was quite respectable. The room was festive, with live entertainment, bowls of mangos as centerpieces, and large projected images of the Taj Mahal.
We're hoping that in 2007, we will once again have events as good as our three dinner events at the 2006 Food and Wine Festival. But we also hope that Epcot Food and Wine Festival event management will learn from 2006, as they strive to make the Food and Wine Festival better each year.
---
Epcot Flower & Garden, 2007
Food & Wine, 2002 - More
Home
---
© 2006-2008 Werner Weiss — Disclaimers, Copyright, and Trademarks

Updated December 19, 2008.

Photographs of Epcot International Food & Wine Festival by Werner Weiss, 2006.