, Curator of Yesterland, visits the
14th Annual Epcot International Food and Wine Festival

October 8, 2009
Hello from the Epcot International Food and Wine Festival!
At first glance, the Festival is quite similar to last year. For the second year, the Marketplace Food Kiosks that encircle World Showcase Lagoon represent cities, not countries. Culinary demonstrations and wine seminars are again in the former Wonders of Life pavilion. Guests had the option of signing up for costly wine events, including the "Party for the Senses" feeding frenzy every Saturday evening. Musicians perform "Eat to the Beat!" concerts every evening. Even the festival graphics are based on last year's very clever artwork.
A closer look reveals that there's less going around the lagoon this year and formerly free events now cost money—but there are also some improvements this year.
Like all businesses, Walt Disney World is dealing with the effects of the current recession. Potential Food & Wine Festival participants have reigned in their promotional budgets. And guests (customers) are more careful with their money.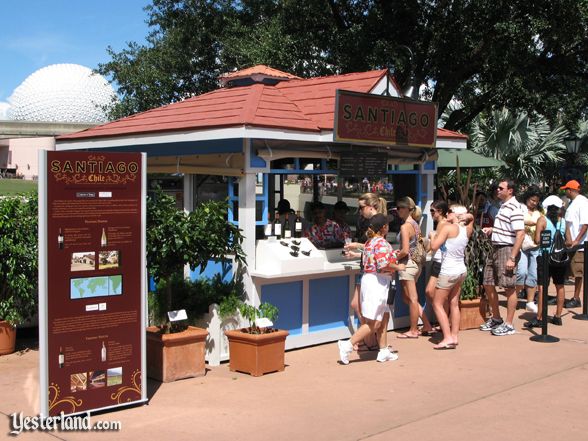 Kiosks sell samples of food and wine.
There are 27 Marketplace Food Kiosks this year. All but three of them represent cities around the word. The other three are "Desserts & Champagne," "The Mouse Catch" (cheese), and "The Brewer's Collection " (primarily beer).
The good news is that the quality of kiosk menu items and the consistency of their preparation has never been better. This may be due to the arrival of Jens Dahlmann as the new Executive Chef of Epcot Food & Beverage earlier this year. Previously, the respected Chef Jens led the culinary team at the California Grill.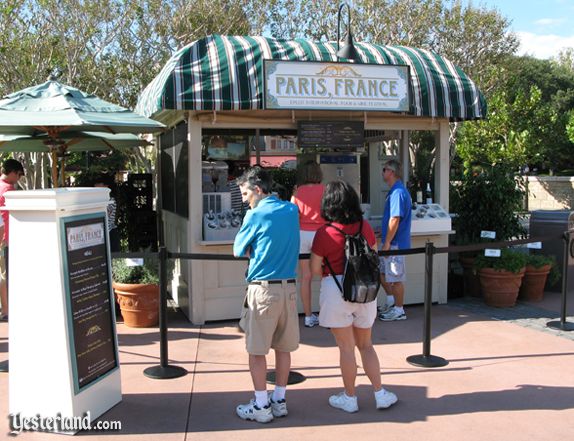 Taste some snails at the Paris kiosk.
Kiosk prices seem similar to last year. There are so many changes to the kiosk menus that it's seldom possible to make a exact comparisons. The popular Escargot Persillade en Brioche (garlic and parsley snails in three little brioche rolls) at the Paris kiosk is back, with the $4.50 price unchanged. Another perennial favorite, the Cheddar Cheese Soup at the Montreal kiosk, went from $3.25 in 2008 to $3.75 this year. With similar prices and improved quality, the value of the kiosk food this year may be better than last year.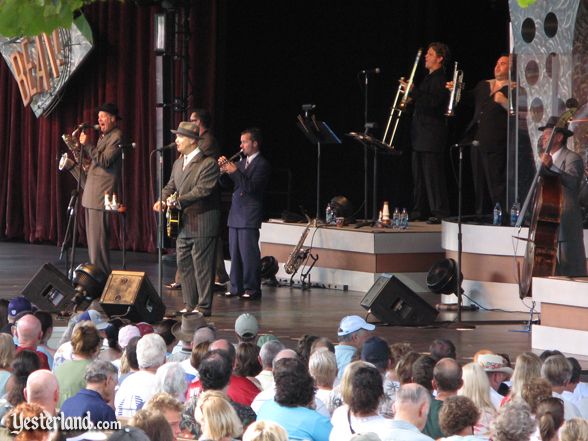 Big Bad Voodoo Daddy performed as part of the "Eat to the Beat!" series.
There's a concert at Epcot's America Garden Theatre every evening of 45-day festival at 5:15, 6:30, and 7:45 p.m. This year, there are 17 different acts, with a new act every two of three days (except that Starship Starring Mickey Thomas played for four nights). There seems to be a conscious effort to move away from the oldies acts of the 1950s, 1960s and 1970s that dominated in the past. Most acts are still past their peak years, but, on average, those peak years weren't as long ago.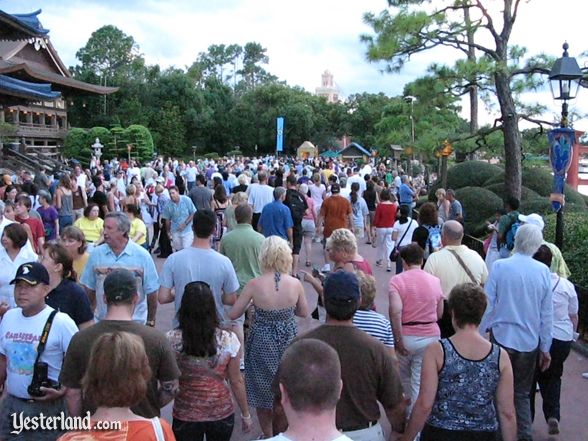 Saturday evenings are very crowded; otherwise, it's not so bad.
Consistent with years past, the Food & Wine Festival crowds range from modest on weekday afternoons to very heavy on Saturday evenings. Overall, Epcot seems less busy this year. Often on weekdays, they don't run the parking lot trams because everyone can park close to the entrance.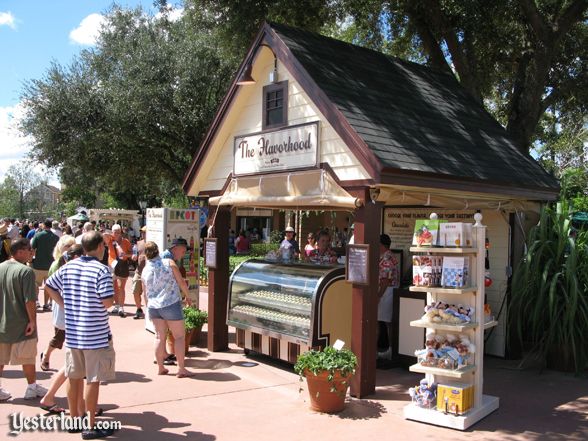 "The Flavorhood" sells three flavors of pre-packaged ice cream.
New for 2009, "The Flavorhood" is hosted by Edy's Ice Cream. According to the official Food & Wine Festival website: "A great way to celebrate the day with your family, neighbors and new friends — Pay a visit to the Rose Walk where you can purchase ice cream from the 'Flavorhood.' Test your 'flavorology' and learn your ice cream personality among other fun activities."
This exceedingly modest addition to the festival draws attention to what's missing this year: Temporary "lands" such as Botswana, Turkey, Australia, South Africa, Valencia (Spain), Oklahoma, and Louisiana in years past. Each year, two or three such areas offered entertainment, cultural ambassadors, cooking demos, displays, artists, and shopping, all in a themed environment. For 2009, there's nothing along these lines.
According to a press report in 2007, Oklahoma came up with about $1.2 million from public and private sources for their 2007 Food & Wine Festival participation. With the current economy, it's not surprising that Disney wasn't able to find eager participants and that Disney didn't want to come up with something similar from its own resources. From a guest perspective, it means less to do at the 2009 Food & Wine Festival—despite the highest admission prices ever.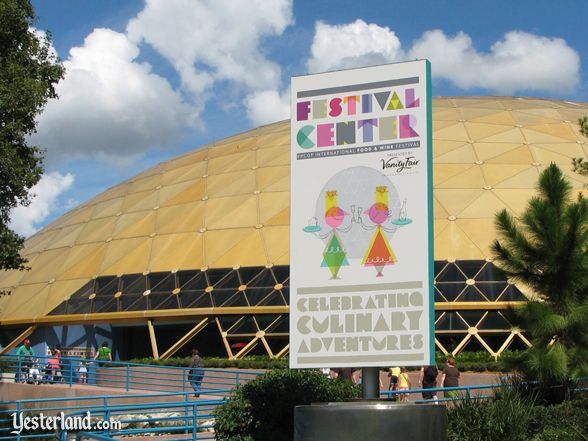 The Festival Center is back for the third year.
In 2007, the Food & Wine Festival moved its wine seminars, wine shop, wine bar, and main festival shop into the defunct Wonders of Life pavilion. In 2008, the culinary demos moved in too. For 2009, it's much the same, but Disney erased the remnants of the attractions that were once the reason for the pavilion. It's an air conditioned space that provides significant advantages over the old outdoor queues for wine seminars and culinary demos.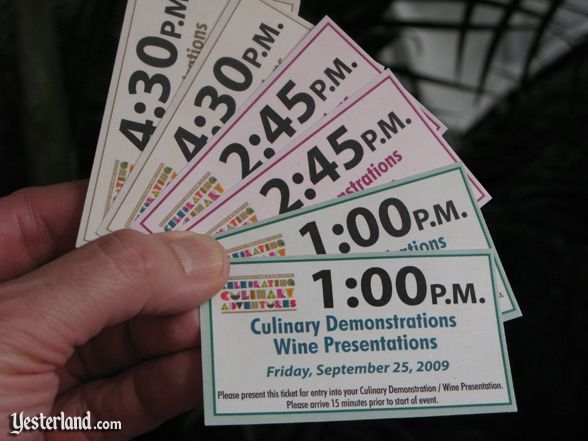 Wine Seminars and Culinary Demonstrations now require paid tickets.
In previous years, wine seminars and culinary demos were included in the price of Epcot admission. Guests lined up before each event. As the wine seminars and culinary demos became more and more popular over the years, it became necessary to line up somewhere between 20 minutes (for a wine seminar from an obscure winery on a weekday) and three hours (for a culinary demo by a celebrity chef) before the start of the session.
The big change this year is that the wine seminars and culinary demos now require paid tickets.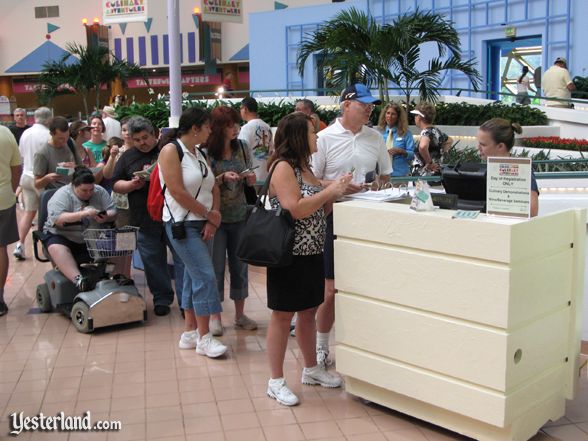 Some tickets are sold for $8 on the day of the event.
Each wine seminar and culinary demo has around 1oo seats. The inventory is sold in three categories:
A limited number of $5 advance purchase tickets for Disney Vacation Club members, Walt Disney World Annual Passholders, and "Tables in Wonderland" (Walt Disney World's dining discount program) members;
$8 advance purchase tickets for guests who don't qualify for a discount or once the discounted inventory has sold out;
$8 day-of-event tickets, with somewhere around 20% of the seats only available at the Festival Center beginning at 9:00 a.m. on the day of the event.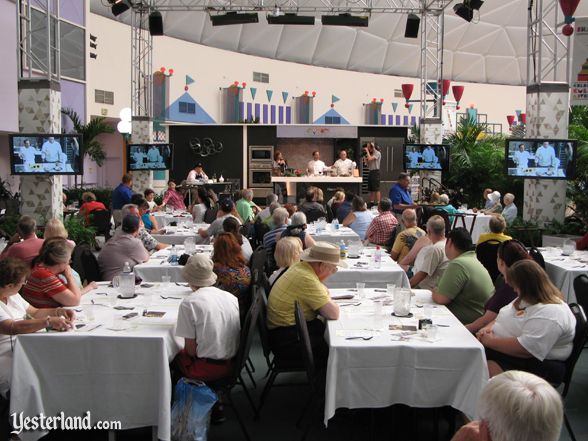 There are three Culinary Demos each day at the Festival Center.
I hate to say this, but the tickets for the culinary demos are working well. The reason I hate to say so is that it's costing me hundreds of dollars that I didn't expect to spend when my wife and I booked our Food and Wine Festival trip.
Because the tickets provide guaranteed entry into a demo, it's no longer necessary to line up far in advance. In fact, there's usually no line until around 15 minutes before start time, and it's possible to wait until a few minutes before start time and still get decent seats.
The audiences now include far fewer "regulars"—Orlando locals who used to get in line for every culinary demo—and far more out-of-town guests.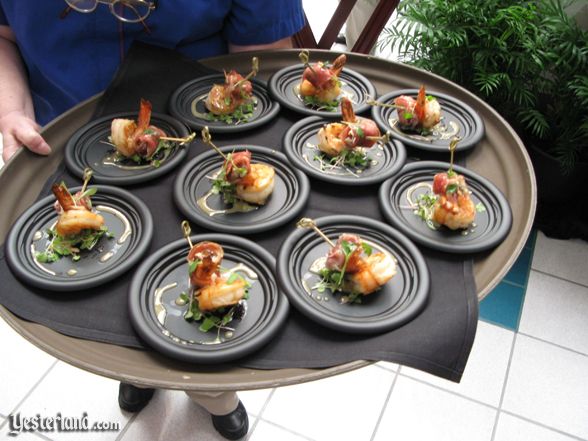 Culinary Demos include a sample of what the chef prepared on stage.
Even at $5 or $8, most culinary demos are still a good value. Each culinary demo includes short talk by a winery representative, a cooking demonstration by a chef, a 1-ounce wine taste, and a tasting portion of the same dish that the chef prepared on stage.
Most culinary demos are once again expertly hosted by Pam Smith who has an extensive knowledge of food and wine. When Pam has a day off, entertainer Jeff Civillico struggles to fill in.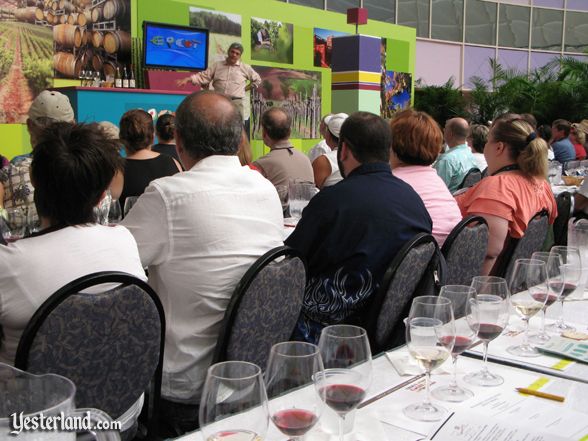 Wine Seminars include three 1-ounce tastes of wine.
The tickets don't seem to be working so well for the wine seminars. Essentially, guests are asked to spend $5 to $8 for three 1-ounce tastes of wine and a 45-minute sales pitch from a winery.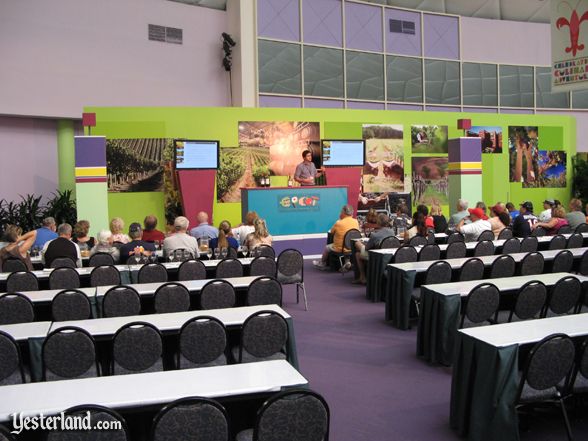 Some wine seminars were sparsely attended.
On weekends, many wine seminars are well attended. But on weekdays, many wine seminars are less than half full. That has to be bad news for the wineries who paid to send representatives (sometimes from other continents) in hopes of pitching their product to large audiences.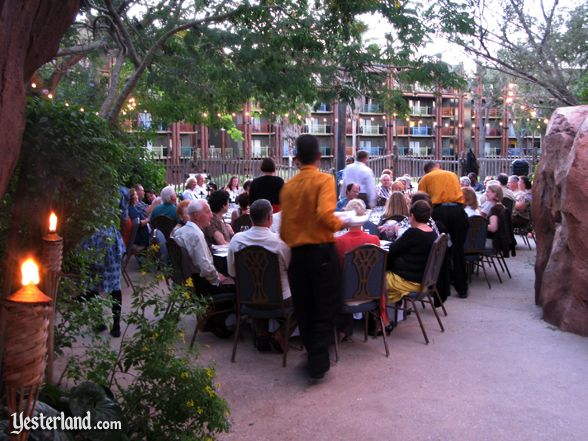 The Jiko Signature Dinner was outside at Disney's Animal Kingdom Lodge.
The Food & Wine Festival also includes culinary programs costing from $35 to $375 per person (gratuity included) plus tax.
My wife and I attended a Food & Wine Festival Signature Dinner at Jiko–The Cooking Place, a restaurant at Disney's Animal Kingdom Lodge where we've had great wine dinners in the past.
The dinner was billed as featuring famed chef Suvir Saran of Dévi in New York. However, Suvir Saran has entirely absent from the dinner, with no explanation from Jiko. There was no replacement guest chef.
The dinner featured appetizers, five courses, and dessert, along with wines paired with each course. One of the courses was a can of trail mix with three tiny slices of cured beef sausage, paired with Cabernet Sauvignon. (I'm not making this up!) I appreciate Jiko's efforts to honor the flavors and traditions of Africa (in this case a safari "sundowner" snack). If this had been just a clever little diversion among great courses before and after, I would not be complaining. However, this course came after two unremarkable vegetarian courses and was followed by a lackluster quail dish and a terribly overseasoned fish course. The price was almost $160 per person.
At least the South African wines were good.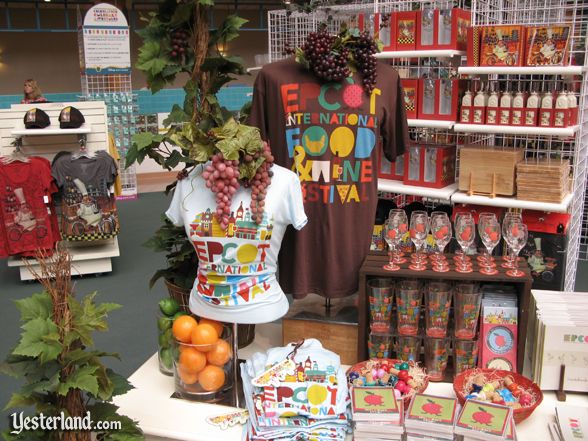 Of course, there's a gift shop.
I wish this article could have been entirely positive. Maybe next year.
---
Culinary Demos, 2009
Festival of the Masters, 2008
Home
---
© 2009 Werner Weiss — Disclaimers, Copyright, and Trademarks
Updated November 10, 2009
Photographs of Epcot Food & Wine Festival by Werner Weiss, 2009.

Disclosure per FTC guidelines: This article reviews consumer offerings from The Walt Disney Company. Werner Weiss personally paid for all culinary demos, wine seminars, culinary events, meals, and park admission described in this review. The Walt Disney Company did not provide any "freebies" to Werner Weiss.