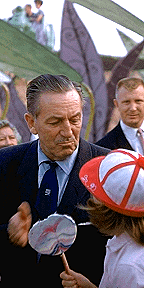 Yester Memories
When Yesterland appeared on the Web in 1995, I started getting e-mail notes from people who shared their memories of long-gone attractions at Disneyland. I've added a new page, More Yester Memories, for 1996.
Here are a few memories that I received in 1995, with the most recent at the top. Several have been edited to reduce length.
---
I was one of a crew of new hires that road tested the flying saucer ride before it was open to the public in the summer of 1961. When we weren't learning how to operate the ride we had to be "test pilots." I must have ridden five hours a day for two weeks. No pillows allowed! When it worked properly it was an enjoyable attraction, unfortunately it was a complex ride from an engineering standpoint and had a lot of downtime. I also understand that it was expensive to operate because of the huge fans that kept the air pressure built up. I spent three summers and all the various holidays working at Disneyland and will always remember those days with a lot of fondness.
— Ted Willoughby, December 24, 1995 (dashiel @ msn.com)
---
I think it was around 1964 or so... our mothers took my friend Gordon and me for our annual trip to Disneyland (we were five or six). We went to what I think was the "Coca Cola Corner" on Main Street. To our surprise, we were served by Walt Disney himself! I remember vividly him asking us how our day was going and what our favorite rides where. My next few trips to Disneyland I saw Disney again, usually showing someone around the park.
— Ken Sockwell, December 21, 1995 (musiken @ earthlink.net)
---
My most vivid memory of Disneyland was in 1970; I was 5 years old. My family was about to go on Adventure Thru Inner Space and when I saw the miniaturized people in the reducing machine, I got so scared that I started crying and begged not to go on it. My parents relented, but my father and sister went ahead while my mother and I stayed behind. I still cried because I thought I was never going to see Dad and my sister again!
— Jim Daniel, December 12, 1995 (Flacub @ aol.com)
---
When I was very young (not that I'm not young now — I'm only 18 for crying out loud), I remember seeing the people shrinking in the microscope in Adventure Thru Inner Space. I used to fantasize and wonder how they managed to make them small. And on each visit after that, I would search for this weird place — but I never found it because they took it out between visits. I always thought I had imagined it until I read your page. Now I know that it was not an insane raving of a lunatic mind, as I once suspected. Thank you.
— Stefan Lawrence, December 2, 1995 (spl3 @ cornell.edu)
---
Everyone knows that the BEST way to enjoy "America the Beautiful" Presented by the Bell System was to wait until the "Minutes Till Next Show" clock would reset itself to 19:00 minutes, then dash into the now-empty waiting area so you'll have all that time to play those neato games along the wall, like "Hear Your Own Voice" (a telephone rigged to a tape delay that plays back your voice moments after you speak), "Electronic Magic" (an electronic race between you [as a switchboard operator], electromechanical switching equipment and computerized switching), Computer Tic Tac Toe (which you could NEVER win because each game began with the computer taking the center square) and "See Yourself on PicturePhone®" (a TV camera that looped your own image back into a PicturePhone® viewing unit). I grew up wishing I could work for the Bell System so I could do the "fun job" of playing the Name the States game (based on the banners hanging from the ceiling in the waiting area) and introducing the audience to the movie "America the Beautiful" presented in CircleVision 360®.
— Joe Ekaitis, December 2, 1995 (jekaitis @ ix.netcom.com)
---
We were fortunate enough to be at Disneyland the day they closed America Sings, our favorite ride. In fact, we rode it on its last time "around." It's just not the same seeing all those stuffed beasties in Splash Mountain.
— Ken Sockwell, November 28, 1995 (musiken @ earthlink.net)
---
We used to love coming off the Mine Train and going directly into the glow-in-the-dark shop. Every few minutes the lights would go off and everything for sale in the shop would glow like the Rainbow Caverns. We always bought a little trinket to take home and I couldn't wait until I would be old enough to have a job so I could go back and buy a LARGE glow-in-the-dark item. But, alas, by that time the shop was gone. Also, one time after getting off the Mine Train we were imagining living in some of the western buildings on the immediate hillside. Imagine our surprise when someone came over the hill with a hose and turned out to be larger than the buildings! We screamed! We couldn't believe we had been fooled like that! We had no idea until then that the buildings weren't life-size.
— Kathleen Clark, November 28, 1995 (kclark @ opticalres.com)
---
In the old Fantasyland, Welch's sponsored a refreshment stand that sold grape juice refreshments exclusively. The memorable aspect of the establishment was the wall murals that depicted the mythical cupids and horse creatures from the film Fantasia. The murals made the place magical and must have been done by an animator.
— Cindy Garber, November 28, 1995 (CINDY.GARBER @ MLY.postnet.se)
---
Your Yesterland pages are great. They cleared up one haunting memory of mine. When I was six years old my family and I made our first visit to Disneyland. I remember my three year old brother being frightened by the drumming Indians. Even though I made numerous return visits over the years, I never saw the Indians again and had always thought I'd imagined them. It was a surprise to see the Indian Village on your pages. I wish it was still there. Guess I better hurry back before the canoes are gone too.
— Gina Little, November 26, 1995 (glittle @ kauila.k12.hi.us)
---
I was browsing your Yesterland Pages and boy did it bring back memories. One of the most vivid was my eighth birthday — July 20, 1969. I can remember seeing Mickey walking around in a space suit and seeing Neil Armstrong descending the ladder of "Eagle" on the first projection screen television that I had ever seen — in Disney's Tomorrowland!
— Dan Green, October 26, 1995 (Dano007001 @ aol.com)
---
How wonderful to see your photo of The Character Shop! I worked as a Merchandise Hostess in The Character Shop for two seasons in 1978. And even 17 years later, after two college degrees and numerous other jobs, including my current career in multimedia educational software development, it's still the most memorable job I've ever had! (I only worked the two seasons because I got married and moved from the area. My hubby even proposed to me at the Snow White Wishing Well!) During the summer season, I had the opportunity to work the graveyard shift, dusting and restocking the store shelves, as well as restocking the _three floors_ of shelves and bins behind the store that supplied merchandise throughout the day. The work was physically demanding, and I soon missed talking with the park guests. But there was one part of working graveyard that made it all worthwhile: my "afternoon" break at 5:30 a.m. Even with tired legs and feet, I loved walking outside Tomorrowland near the front of the Castle as the sun was coming up. Disneyland at dawn with virtually no one around is one of the most beautiful places I've ever known. The gardeners are putting finishing touches to the newly-planted flower beds, and the walkways have been freshly washed by the custodial crews. The soft light from the dawn sun combined with the absence of people gave everything a beautiful dream-like quality. This is the image of Disneyland I will always remember and cherish.
— Judi Lane, September 11, 1995 (judilane @ best.com)
---
I have fond memories of the Pirate Ship — primarily because I always wanted to eat there, and the one time my parents agreed, we were in the queue when they decided it was too crowded and we went somewhere else. My favorite attraction, however, was Nature's Wonderland. Being a small child and only ten or so when it was replaced, I was convinced the animals were alive and trained to perform their actions. After all, the mules were real, why not all the other animals? Strangely enough, the Jungle Cruise animals were always "fake" to me. To this day, I like to think the bears, beavers, etc. were working in the hot sun to make the guests happy.
— Scott Malcolm, September 9, 1995 (102604.1130 @ compuserve.com)
---
Everytime we went to Disneyland we ate at the Pirate Ship Restaurant at least once. They didn't have chairs; instead, you sat on not-so-sturdy plastic barrels. Being three, I was leaning back further than I should have on mine. Suddenly, all three of the Little Pigs entered the open dining area. I was so surprised I leaned too far back and the barrel toppled. I landed on my head and blacked out. All I remember is Fiddler Pig standing over me, trying to see if I was okay. I've never forgotteen the experience, and it could only happen at a place that used barrels instead of chairs. When I found out the ship had been torn down, Disneyland just wasn't the same. I was afraid of the Journey Thru Inner Space. I thought it could really shrink people! It's the only Disney ride that ever frightened me.
— Georgia Jones, August 29, 1995 (geojjones @ msn.com)
---
A prime memory, not only of Disneyland, but of life in general, was eating aboard the Pirate Ship Restuarant. We were the only ones in there. The first time I recall seeing the fireworks was from inside. I was finally tall enough and brave enough to ride the rides that year, and it seemed to me, like it does to many, that Disneyland was made especially for me.
— Justin Beltran, August 16, 1995 (beltran @ ccit.arizona.edu)
---
I first visited Disneyland when I was five years old, in 1976. My favourite attraction has always been America Sings, and I can clearly remember some of the more memorable tunes. I'd be ecstatic if Disney sold the music from America Sings and all the other Yesterland memories on a CD! Seeing the characters in their new home in Splash Mountain definitely brought back a few memories...
— Geoffrey Kneller, July 26, 1995 (iscgk @ pipe.nova.ca)
---
I was born in '48 and I have vivid memories of going to Disneyland in its very early days and actually seeing Walt Disney out there, greeting me and the other kids. Also, Roy from the REAL "Mickey Mouse Club" would draw your picture.
— Steve Eddy, June 26, 1995 (mjys76a @ prodigy.com)
---
My strongest memories of Disneyland as a kid are surely the Journey Thru Inner Space by Monsanto. It was the quickest line in the park, and you could go on it 5 or 6 times, at least, in a day. I never got tired of it. Your picture of it here at Yesterland really flooded me with fun memories. Sure it was old, and the eye at the end was a favorite target for some kids to... um... expectorate at (I hated that)... but when I think of Disneyland, I still think of Inner Space... when I go now, I always hold a shred of hope that it returned. Not yet. But if they THINK about taking Haunted House, ohhhhhhhhh...
— Sean Shanahan, June 11, 1995 (seans @ efn.org)
---
I remember driving to DL from the Valley. One and a half hours was very long for little kids, but we always looked for the billboards advertising DL and then the TWA rocket over the orange trees (this was replaced by the Matterhorn). Last summer when I went to DL after almost 18 years, the buildings were so high that you could not see the Matterhorn until almost on top of DL.
— Harry Landau, June 7, 1995 (helandau @ ix.netcom.com)
---
I worked at the Park from 1977-1981, first in Cash Control, then as an artist on the Tokyo Disneyland project. Our Tokyo work center office was located right next to Adv thru Inner Space, between that and the Tomorrowland character merchandise shop. (Our office door opened up to Tomorrowland, to the right was the entry to Adv Inner Space.) I worked all day listening to the "Miracles thru Molecules" tune, it was kinda weird cuz you heard people queuing thru, and an occasional guest would pop in the door looking for a bathroom or whatever. I so wanted to grab that big eyeball when they closed the attraction down, almost made that happen, but chickened out the last minute... Oh well, probably sitting in some back warehouse at the Park.
— Mike Baggetta, June 2, 1995 (baggetta @ teleport.com)
---
The Rose Garden (was) where New Orleans Square is now. As a kid, I used to sit with Walt — yes, Walt — in the Rose Garden, and he would spin tales for me and my sisters, often illustrating them as he went. I have several of these illustrations signed by him hanging in my home now — Thank God my mother saved them for me!
— Michael Butts, May 25, 1995 (mcb @ ElSegundoCA.ATTGIS.com)
---
I really miss the Tahitian Terrace. Any chance of including it in Yesterland? You just can't beat the atmosphere of the Terrace! Some of my best memories of Disneyland are leaving a noisy, crowded, exciting Tomorrowland at night and going over to Adventureland where it was dark, quiet, and uncrowded. The only sounds were the Jungle boat motors and the Tahitian dancers doing their thing. Pure bliss...
— Chris Low, May 25, 1995 (CHRISL @ WordPerfect.com)
---
Occasionally, just to help jog my memory about these long-lost attractions, I would post a thread to rec.arts.disney about the Mine Train or whatever, but your page is a lot more fun, and a lot less hassle. Some of the attractions you included, I was beginning to think I had imagined, 'cause I'd never heard them mentioned. In particular, the Pack Mules. (I'm glad I got to ride 'em once before they were sent wherever they were sent — hopefully not mule-heaven!).

— Bill West, May 24, 1995 (BWest @ spmc-server.jpl.nasa.gov)
---
This is a great site. After 39 years of wishing upon a star, I finally made my first trip to Disneyland last year. My trip to "Yesterland" let me experience much of what I had missed by waiting so long. And even though I only went for the first time last year, it reminded me that I already have my own memories of one of Yesterland's attractions: the Skyway.
— Bill Ellet, May 22, 1995 (bill @ dra.com)
---
More Yester Memories (1996)
App: Field Trip
Home
---
© 1995-2012 Werner Weiss — Disclaimers, Copyright, and Trademarks
Updated September 28, 2012.
Photograph of Walt Disney: 1958 by Merrill A. Garner.