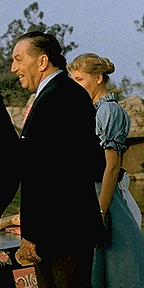 More Yester Memories
In 1995, so many people sent me Yester Memories, that the page became quite large. So I added this page for 1996 and another one for 1997.
Here are more guest memories, with the most recent at the top. Several have been edited to reduce length.
---
A small, but very warm, memory I have is of the old Adventureland Shooting Gallery. Back in the good old days, the operation was a real shooting gallery with very realistic air rifles. We're talking about the pre-electronic era, in which the operators had to manually reload the guns with lead pellets for each customer. The gallery itself was a mechanical whirl of targets representing all manner of wild beasts, vistas, and native threats that might inhabit an untamed land. My dad would have to hold me up so I could reach the top of the counter, and the weight of the gun was so great that he also had to hold the barrel for me, while I tried to get a sight, but the thrill of actually firing a real gun was too much. Originally, the guns were free to be aimed anywhere (including at other people) and were only tied to the counter by their air hoses, but some years later they mounted large oval basket ball hoop type devices in front of each gun to limit their range of movement. My favorite targets were alway the teeth of the tiki gods and the bobbing skulls that danced out from under the waterfall. I loved to see those drop. And because these were real pellets striking the gallery, all the painted surfaces and targets were riddled with the marks of thousands of gun shots. They must have had to repaint the gallery every week. Frontierland had a real shooting gallery too, with a western theme, but I liked the Heart of Darkness feel of the Adventureland one better. Nowadays, everytime I walk through that area just in front of the Jungle Cruise, I remember fondly the sounds of the popping guns and the clank or the targets as if it were just yesterday. But now its all gone. The horror, the horror.....

— Keith B. Hayes, December 20, 1996 (KHayes1995 @ aol.com)
---
I remember the Flying Saucers. It was the first time I went to Disneyland after moving back to the U.S. from Guam. My uncle took my brother and me. I don't know what it was about that ride. It was great. My uncle ended up taking us to Disneyland 24 times over the next 12 years. I remember wonderful things about each trip, but nothing was a great as the Flying Saucers. The next best thing was the mule ride. In 1985 we took our daughters to Disneyland. All Steve and I did was talk about how they would love the mule ride. It was gone and I cried. We are going again for a week over Christmas. My daughter will form her own memories.

— Irene Willoughby, December 19, 1996 (wILLOUGHBYI @ lanecc.edu)
---
I really miss the ticket system. It was exciting to have that book of tickets and make some real choices about what you wanted to see and do. It also forced you to experience some of the less popular attractions. When I go there now, the newest attractions have incredibly long lines because you can go on them unlimited times. Also, with tickets, you didn't have to pay for more than you needed. You could buy an admission inexpensively, and just go shopping and people-watching if you wanted. You could even bring a lunch inside and eat at the picnic area. A family of four could easily spend $400-500 in a day now.

—Chris Perrine, December 9, 1996 (perrine @ netcom.com)
---
Our family drove to California from Washington State for our first ever vacation. This was 1961... I was 11 and my sister was 8. I remember the Flying Saucer ride and the fact that our parents would not let us go on it. My sister and I returned in 1969, and our first ride was to be... the Flying Saucers. But, alas; it was already gone.

— Kathy Gregory, December 8, 1996 (ZORRO08 @ aol.com)
---
My mom and I used to go to the park about four times a year. We would always eat at Captain Hook's Galley, and we'd always get the tuna salad. Then we would sit in the dining area next to Skull Rock and eat. There was a small flow of water from Skull Rock that circled around behind the dining area, and dragon flies absolutely loved that spot. We would be sitting there eating, and hundreds of them would fly by. I remember I used to be scared of dragon flies as a kid, but my mom would explain that dragon flies don't bite and that Walt Disney wouldn't let them in the park if he thought they would hurt us. I was never afraid of them again.

— Terri Mabry, August 22, 1996 (terri @ maximized.com)
---
Back in junior high, the Monsanto ride was our "Date Gauge." Being the best make-out ride in the whole park (Dark! Roomy seats! Free!!), after a weekend date there, Monday at school always started with the question, "How many times did you go on Monsanto?" 1 was OK; 3 was very good; 7 was IT. 7 meant you would spend the whole day being admired for your suaveness.

— Dennis Catron, August 18, 1996 (dgcatron @ CCGATE.HAC.COM)
---
My wife worked on "The Motorboat Cruise" from '84 to '88 and remembers it fondly! The people used to say "My boat's broken; it wouldn't steer," even though none of the boats would steer.

— Bill Pierce, August 12, 1996 (gzbill @ aol.com)
---
When I was small, I was standing in line for "Flight to the Moon," and an old woman came up to a Disney employee standing outside the ride. Her question to him was, "Does this land in the same part of the park from which it leaves?" The story has been a standard in my family for decades.

— Chuck Blahous, July 30, 1996 (Chuck_Blahous @ simpson.senate.gov)
---
I remember seeing pictures of Disneyland when it first opened (or soon after it opened at least), and there was a stagecoach in Frontierland! I have no more memory than the fact that I begged my parents to take me so I could ride a "real" stagecoach. We did not make it to the park until 1964, however, and the stagecoach was long gone. They took me to Knott's Berry Farm to ride their stagecoach, but I felt forever cheated for not being able to ride Walt Disney's; surely it was the REAL one! One of my most vivid memories of DL is how, in the shops during the early days, they almost begged you to buy cels from the cartoons. This was, of course, before all the "collectors" boosted the prices to Outerspaceland.

— Steven A. Schulman, July 21, 1996 (buchanan @ inreach.com)
---
What a shame when we lost the "Golden Horseshoe Revue." Of course, the theatre is still there in all its splendor, but the once record-holding show has long since been replaced. My family used to go directly to the GHR first thing to get reservations for the show. The food was never much, but it was waitress service (since replaced with a do-it-yourself-line) and the show was always the same and always funny. Last time I was at DL there was a mildly entertaining hillbilly-type musical revue in the old theatre. It made me long for the old days.

— Mikael Romano, July 16, 1996 (boyski @ earthlink.net)
---
I remember going in the back of the Main Street Penny Arcade (circa early 70's) and playing those 10-cent baseball games. Some of them were kind of rinky-dink, but a few were really neat. They had multiple ramps to the upper level, multi-level home run decks, and I think one had a target hole in the center for 25 or 50 "bonus runs." There were about three of those machines and I'd like to know if anyone knows what happened to them or if there are any similar to them anywhere.

— Keith Isaacson, July 15, 1996 (keithi @ qualcomm.com)
---
My most vivid memory of Disneyland is riding the Flying Saucers with my sister. There was a weight minimum to ride this alone and we didn't meet it, so we had to ride together all the time. We couldn't wait till the day we were old enough (and heavy enough) to ride by ourselves! Alas, the ride was taken out before that happened.

— Gina Leslie, July 14, 1996 (gina1 @ wman.com)
---
In 1994, my mom and I went to Disneyland in May. We went to the Aladdin's Oasis show for lunch — I was thrilled that they offered a vegetarian meal! We got a table to the right of the stage, in the front. The sidekick guy in the show, who wore an incredibly huge, round turban, was helping to pass out the appetizers. As he walked past me he said, "Hi, Kerrie." I was amazed and wondered how he knew who I was... until I remembered that I was wearing a big bow in my hair with Minnie Mouse on one side and my name on the other! I had a great laugh over that!

— Kerrie Wooten, July 13, 1996 (davo @ mother.com)
---
I often tell the story about our return trip to DL in the early 80's. We lived in California in the 60's, and went to DL two to three times a year. When we (Mom, Dad, and I) returned in the early 80's, my mom wanted to ride the mine train. She and my father walked where they remembered it was, got in line, and then made it to the train. Mom got in, then Dad, and suddenly, a bar went down over their laps. Mom looked at Dad and said, "I don't think this is the same ride!" Understand, Mom never rode a roller coaster in her life. The carousel was as fast as she ever wanted to go. But here she was, stuck on Big Thunder Mountain Railroad, not the Mine Train. Dad's arm eventually healed from the claw marks where Mom held on to him, face buried in his shoulder, for the entire ride. Afterward, Dad found a nice quiet bench where he took Mom, and where he spent about 30 minutes trying to convince her that she had not died. When they found me later, and told me what happened, I laughed for a solid 5 minutes.

— Randy Tennison, June 22, 1996 (tennison @ sound.net)
---
Thanks for the trip through old attractions at Disneyland. Although I haven't returned since I worked there from '65 through '71, I seem to recall that Aunt Jemima's Pancake House disappeared, and I didn't see it mentioned in your list. There was no better treat before going to work on the World Famous Jungle Cruise than to have fresh pancakes at Aunt Jemima's. It was one of the few restaurants that opened before the park so the employees could eat prior to meeting the guests.

— David M. Currie, June 18, 1996 (david.currie @ rollins.edu)
---
Remember those cheesy motor boats next to the submarine and autopia ride? When did Disneyland dump the boats? There was one point in the ride when the tracks force the boats to face each other before sending them in opposite directions. I will never forget the look on this woman's face when she actually thought we were going to hit. She started screaming and spinning her little wheel. Her husband and our boat were crying from laughter. When we completed the ride, we waited to see her. She was the darkest shade of red that I've ever seen.

— Craig Eychner, June 12, 1996 (TDEDEMO @ aol.com)
---
Cruising through Yesterland confirms something I've believed for years — the Adventure Thru Inner Space has a definite cult following. There seem to be more Yester Memories connected with that ride than any other single attraction. Why have so many fixated on this free (later "C" coupon) ride? The reason for me, I think, is the voice of the late, great Paul Frees, the man who gave us Ludwig von Drake, the Haunted Mansion's Ghost Host, and lord only knows how many buccaneers on the Pirates of the Caribbean. I remember how my older brother and I would hoot and holler from our Atommobile, cracking wise about the hokiness of the giant eyeball and the enormous plastic molecules, not to mention those electrons that shot about "like so many fiery comets." But, to me, the deep, authoritative, yet soothing tones of Paul Frees made it all seem plausible. He was Disneyland's answer to Orson Welles and James Earl Jones. When Paul Frees died, the park lost its most distinctive voice, and that is a shame.

— Chuck Campbell, June 3, 1996 (ChuckC @ aol.com)
---
One of my favorite memories of Disneyland (and I had quite a few, having grown up just ten minutes away) is of their Jazz All-Star Weekend. In those days (1978) you could get in for just five dollars general admission and all the shows were free. I got Stan Kenton's autograph, saw Woody Herman, Maynard Ferguson, Chick Corea, Dizzy Gillespie, Toshiko Akiyoshi and many more. I'll never forget the time Toshiko Akiyoshi and her orchestra were performing. Playing drums and traveling with the band was a young, 17-year-old wonder boy who failed to show up for the second set because he was having too much fun at the park (it may have been his first trip to Disneyland, who knows?). Toshiko and the band decided to start without him and limped along without the drummer but from time to time, when the song desperately needed it, Toshiko was forced to get up from the piano, lean forward and give one of his cymbals a crash with her hand. She'd then give the audience a shrug and a roll of her eyes and sit back down at her piano. Half-way through the set, the boy sheepishly snuck back to his drum set, but not without avoiding a disapproving glance from the band leader — and a cheer from all of us in the audience. This all happened at the Carnation Gardens, where you could sit on the floor just feet from the performers, enjoy the music and then talk to these legends after the show.

— Jim Eckes, May 7, 1996 (fameckes @ gvn.net)
---
The passing of the coupon system from Disneyland took with it one of the most literate (and worst) puns of my recollection. I believe it originated on the Jungle Cruise: "Folks, this is an 'E' ticket attraction! That's 'E' as in Euripedes. You rippa' deese outta da book and you give 'em to da man at da window!"

— Bob Lewis, March 20, 1996 (bobl @ cs.ubc.ca)
---
As child, the thing I most remember about Disneyland was the ticket booklets. I remember that every year after my family's annual visit, we would always have a plethora of A through C tickets left over. And every year we would put them in a shoe box; my parents would promise me that we would use them the next year. By the time they became obsolete, we had two boxes full. Never once did we remember to bring our spare tickets back. I also miss all of those Tron video games they used to have in the Space Mountain Arcade back in the early 80's. Can't find those anywhere anymore.

— Adi Ben-Ner, March 11, 1996 (Adi_Ben-Ner @ mail.stil.scitex.com)
---
My fondest Yesterland memory of Disneyland is Adventure Thru Inner Space. My time waiting in line was spent trying to figure out how the people, including myself, shrank into nothingness. It was so convincing because I could actually see the tiny people travel through that magical microscope. My favorite section of the ride was the room with the huge crystals that looked like snowflakes. What would have been really great is if I had truly shrunk! Or had I?

— Jefferson Sorley, March 3, 1996 (sorlejt @ wkuvx1.wku.edu)
---
I remember way back when — actually, it was around 1984, when I was about 5. The ride I remember most was the "Mission to Mars." What I have great respect in Disney for now was the fact that after riding Mission to Mars I actually 100% believed I had been to Mars and back. I think it was the "Hyperspace entry" thing with all the trippy colors that fooled me. I told all my relatives about going to Mars, which they either passed off as being weird or as having an active imagination, but I didn't know any difference then. Although the ride was rather old, it still had enough power in it to make me believe! I rode it again before it closed in 1992, and saw how low-tech it all was, and I could only remember back to the days when I could truly believe I had gone to Mars. Still, it's sad to see it go.

— Adam Norwood, February 17, 1996 (palptine @ Onramp.net)
---
I remember the Flying Saucers as if it was yesterday. I clearly remember riding with my grandfather — who died last year at 95 years of age — and I remember the weird disks in the floor that opened when you rode over them, the little knobby handles that didn't move even though they looked like they should, the nice modern plastic (like the bobsleds) the saucers were made out of, and the fact that the things moved counterintuitively: you leaned away from the direction you wanted to go. That arm was pretty fun, too. The sky was a brilliant blue. I may have visited the park several times during the saucers' reign, but this specific memory was from when I was probably about 8, a great age for memories of Disneyland.

— Bruce Rhodewalt, February 17, 1996 (kahuna @ tikipub.com)
---
Back in the late 70s, some friends and I arrived at the Park very early for one of those "private" parties that began at 8:00 p.m. (after the Park closed at 6:00). Some kind Cast Members admitted us to the Park at least 30 minutes early. We were the only guests at the time! The Park was mostly dark and silent (almost eerie) and when we saw the Skyway was running, we headed up to the Fantasyland station. The operators were surprised to see us, but put us aboard a bucket. We began our journey across the darkened Park—when suddenly the lights started to come up, one Land at a time! We watched, mesmerized, as what looked like a magic city came to life. From darkness sprang the colors of the old pirate ship at Skull Rock. The tiny lights of Storybook Land shimmered like candles. Moving through the still dark Matterhorn made it seem less artificial—and MUCH bigger. As we passed over the Submarine Lagoon, the underwater lights came on, illuminating all its crazy colors. We noted with amusement that the Peoplemover was in operation (did it EVER stop? It has now...) Then the darkened Tomorrowland lit up! It really reminded me of that cheesy (and totally great) future city at the end of the old Carousel of Progress. Too soon, we reached the Tomorrowland station and disembarked. As we descended the stairs, we saw other people on the grounds. The spell (and the silence) was broken.

— David E. Rogers, February 8, 1996 (76362.2554 @ compuserve.com)
---
Whenever I go back to Disneyland I keep looking for the bookstore off the candy shop on Main Street. Now it is just filled with a couple story books at the register and the rest of the shop is Disney kid clothes you can get at any Disney mall shop. This bookstore used to only contain Disney books from all over the world in all different languages. My favorite find was a German book with glossy color photos from the movie "Pollyanna," but as a little kid, I didn't have the money to buy it. I still want that book. We loved looking at all the storybooks in Japanese, French, Spanish, and languages we couldn't even recognize. It was like a window into a world we didn't know, but were sharing all the same. The magical feeling it gave us as kids is indescribable.

— Kathleen Clark, February 6, 1996 (kathee @ opticalres.com)
---
I'll never forget how wonderful it was to go to DL the first time without tickets! My parents had four kids (at the time) and a very limited budget, so we had to "budget" our tickets very carefully! Finally I could ride as much as I wanted — what a trill!

— Cathy Holley, January 26, 1996 (holley @ nvc.cc.ca.us)
---
My friend Mark and I, maybe all of 12 years old each, were in Tomorrowland just coming in off of the ride to the moon (this was about 1970). We had run through all of our "E" tickets early in the day and now were killing the rest of the book in order "D", "C", "B", and "A". Needless to say were not having as much fun as we had in the morning. Anyway, as we left the Flight to the Moon we were talking and two little gray-haired women in their 70's — I know I was young but, trust me, these ladies were OLD — came up to us and said "You two look like such nice boys we thought we would give you our ticket books before we leave," and with that they handed us each three complete ticket books (two with the admission passes still in them). Mark and I were floored. We felt like we should have walked these ladies to their car, helped them across the street, or anything a good Boy Scout would do to help them. To this day I still have one of those ticket books left and never fail to get a smile when I think off how I got it. A truly kinder world back then.

— Chuck Callahan, January 8, 1996 (chuckc @ sbvmwd.dst.ca.us)
---
One of my special memories of Disneyland when I was younger was of the now-gone Pirates Arcade. After finishing riding The Pirates of the Carribean, the exit out of the building dumped you into a small arcade with numerous pirate-themed games. Most of them were regular, old Bally/Midway-type shooting games that had been converted from their origional themes into one-of-a-kind Disney games. This was back when arcades charged a dime for a game. If Mom gave my brother and me a dollar each ( ! ) we would be in heaven for at least a half hour while she shopped in New Orleans Square. I remember a shooting game where you had to extinguish candles on a pirates' chest, a strange vertical bagatelle where you hit a lever with your fist to send rubber balls up into a maze of skeleton jaws that would catch the balls, and one of those old fortune-teller machines which had a pirate mannequin move around a bit and point to his treasure map before a fortune card was dispensed. I don't remember the fortunes on the cards but I do remember that the back sides had the history of pirate ship flags which had lots of cool skull-and-crossbone designs! What kid wouldn't want to be a pirate?

— Keith B. Hayes, January 6, 1996 (keithh @ lightspeed.net)
---
Even More Memories (1997)
Yester Memories (1995)
Home
---
© 2007 Werner Weiss — Disclaimers, Copyright, and Trademarks
Updated October 1, 2006.
Photograph of Walt Disney: 1958 by Merrill A. Garner.